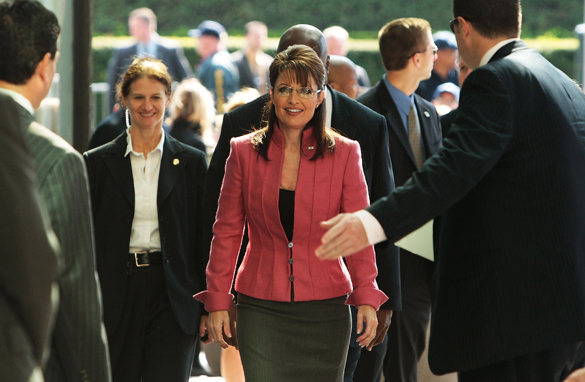 John McCain won't let Sarah Palin talk to the press. (PHOTO CREDIT: GETTY IMAGES)
FROM CNN's Jack Cafferty:
John McCain doesn't want reporters talking to his running mate. Why not?
The Straight Talk Express - which, by the way, is an expression you don't hear much from McCain these days - would prefer no talk at all if the conversation is between the news media and Sarah Palin.
Yesterday's photo op at the United Nations between Sarah Palin and Afghan President Hamid Karzai was a joke. The McCain people weren't going to allow any reporters in the room when the two met - just cameras. It was only after the networks threatened to not cover the event at all that the McCain people relented and allowed a pool producer into the room. He was permitted to stay for a total of 29 seconds before being escorted out. And of course, no questions.
This kind of cheap theatrics is beneath someone who wants to be president of the United States. Unless you're John McCain. Then apparently it's ok, and his campaign doesn't think the voters are smart enough to figure out what's going on. I think they're wrong about the voters.
Here's my question to you: Why won't John McCain allow reporters more access to Sarah Palin?
Interested to know which ones made it on air?
Abe writes:
McCain camp is simply worried about Palin making a mistake. Now that it's crunch time, a mistake by her would ruin them. They are already beginning to lose the election. Since she lacks experience and knowledge of foreign issues she would make a critical error. The American public are learning more about this governor, but you rarely see her when she doesn't have a script in front of her and that's what people want to see.
Sue writes:
She's pretty to look at, to talk to...not so much. It looks to me like McCain likes to surround himself with beauty queens. He didn't choose several qualified women who aren't as good looking. I find the whole thing creepy.
Nazli writes:
It's obvious she is in way over her head. The danger with being so guarded is eventually every move is going to be scrutinized so closely that people are only going to remember her gaffes regardless of how small or large. This was such a disgraceful move on John McCain's part and once again shows his complete lack of judgment.
Nellie from Chicago writes:
The McCain campaign is afraid that her shallow facade of basic talking points will crumble. The myth of Palin is greater than the reality. By keeping her a blank slate people are able to project on to her what they want her to be without having facts floating around to ruin their perceptions
Dennis from New Mexico writes:
Jack, isn't it obvious? I don't think that she thinks too quickly on her feet and without canned comments, she's at a loss. I really feel for her with the vice-presidential debates.
Nathan writes:
McCain must be worried that questions from the press will expose her intimidating intellect and vast experience. People may find her too qualified for VP and actually want her to be president instead of McCain.