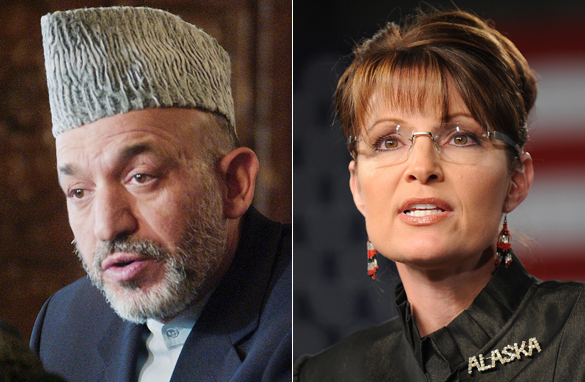 Sarah Palin will be meeting with a number of heads of state and dignitaries this week at the United Nations General Assembly. (PHOTO CREDIT: GETTY IMAGES)
FROM CNN's Jack Cafferty:
Leaders from all over the world are gathering in New York this week for the fall session of the United Nation's General Assembly.
And with all the possible conversations between heads of state and other political leaders that will go on there...One meeting is creating so much hype, the flies are fighting for spots on the wall to listen in.
Alaskan Governor and Vice Presidential candidate Sarah Palin is scheduled to meet with Afghan President Hamid Karzai. The meeting comes as the McCain-Palin camp works to assure voters she has a good enough grasp of foreign policy to be one heartbeat way from the presidency.
Until now, Palin's foreign policy experience involves a trip to Kuwait and Germany to visit Alaskan National guard members...And something about being able to see Russia from her house.
According to the Washington Post, while in New York Palin will also meet with the presidents of Georgia, Iraq, and Pakistan as well as the Indian Prime Minister.
Here's my question to you: What will Sarah Palin and Hamid Karzai talk about?
Interested to know which ones made it on air?
LeeAnne writes:
The thought of Palin talking to Karzai, as a representative of the United States, is mortifying. I don't know what they will talk about, but I am sure he'll have to tell her that he's the leader of Afghanistan, and then proceed to locate his country on a map for her.
Kay from Cincinnati, Ohio writes:
I'm sure she'll explain the Bush Doctrine to him since Charles Gibson explained it to her.
Jerald writes:
Perhaps she will ask President Karzai to explain the wonderful benefits that conservative religion has brought to his country.
Alan writes:
What a sexist, elitist media question! I'd imagine they would have an intelligent conversation, no different than a member of the press would have.
Noreen from Rochester, New York writes:
This is so ridiculous. The McPalin campaign won't let her talk with the media, they are stifling the format of the upcoming V.P. debate. According to a report in the New York Times Saturday, the campaign of Senator John McCain has fought for tight rules on how the VP debate will run, limiting the chances of anything other than short answers, and ensuring the debaters will not speak directly to one another for anything more than short periods. But, they now are parading her in front of world leaders.
Brad from Tampa, Florida writes:
Palin will say, "So, you're the first dude of Afghanistan. Good for you. What do ya'll hunt over there?"
Deborah from Los Angeles writes:
She will tell Karzai that she likes their dogs with the 'reeeeally long hair.'