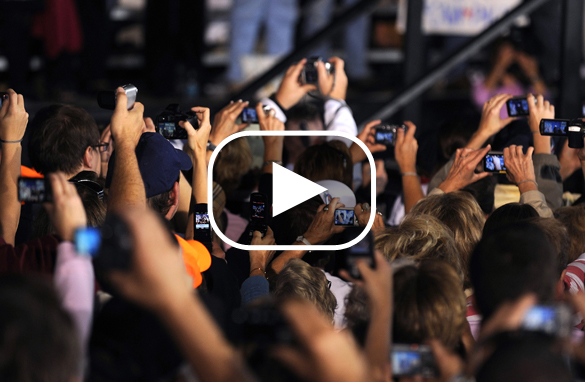 Click the play button to see what Jack and our viewers had to say.
(PHOTO CREDIT: GETTY IMAGES)
FROM CNN's Jack Cafferty:
Funny how a stock market crash and the failure of a few big investment banks will distract Americans from the flavor of the day. There doesn't seem to be the burning interest in who makes Sarah Palin's glasses that there was even a few days ago.
Former White House adviser and Republican strategist Karl Rove told the Associated Press this week that the Palin phenomenon will fade between now and the election. And that may already be happening. Suddenly following the big bounce Sarah Palin and John McCain got coming out of their convention, Barack Obama is once again moving ahead in the national polls. Obama's a heavy favorite when it comes to handling the economy, and the crisis in the nation's financial system may have helped him.
Watch: Cafferty: Palin's 15 mins up?
Plus Sarah Palin has said she will refuse to cooperate in the investigation into her firing of Alaska's Public Safety Commissioner, she has said some awkward things during interviews and campaign appearances, and a recent CBS news poll shows only 42 percent of Americans think she is prepared to be vice president.
Here's my question to you: Is Sarah Palin's 15 minutes of fame over?
Interested to know which ones made it on air?
Wendy from Harrisonburg, Virginia writes:
Sarah Palin's 15 minutes of fame is totally over. It was a moment of fascination because people were curious about who she was, and really wanted her to be a new Hillary Clinton. Except that she is not. She is beauty queen who has no credentials and no understanding of what this country needs.
Dave from British Columbia writes:
Sarah Palin is a metaphor for all that is wrong with America. Somewhere in our lifetime the packaging and pretty ribbons became more important than actual content. This is true when it comes to buying a book, seeing a movie, a good meal or buying food at your local super-market. Until this changes, America will remain in trouble.
Tyson writes:
Sarah Palin's 15 minutes of fame is absolutely not over. Having her on the Republican ticket is huge. John McCain was very smart when he decided to choose her as his running mate. She is a Washington outsider, unlike her counterpart, Senator Biden. Sarah has had more executive experience than Senator Obama, and Senator Biden combined.
Linda writes:
Sarah Palin star is fading fast. She went from a phenom, to a Saturday Night Live joke and now is just another lying politician. She said she was an open book with her Troopergate issue, but now the cat's got her tongue. On November 5th, all the Republicans will be jumping on the bandwagon saying that McCain could have won the White House if it wasn't for Palin, her husband and her controversial issues - put lipstick on that!
Dick writes:
I hope not. Getting back to important issues and solving the country's problems seems boring compared to pregnant teenagers, nasty emails, lipstick on things, snowmobile races, pork wars, and SNL skits.