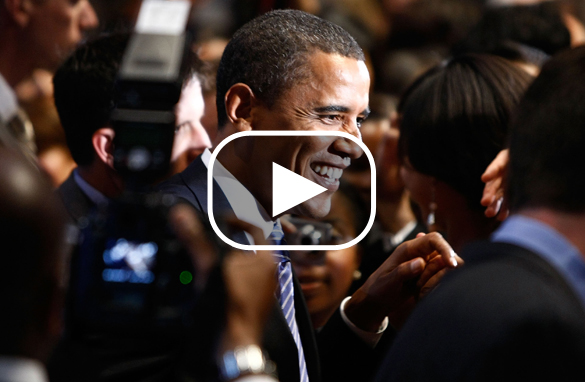 Click the play button to see what Jack and our viewers had to say. (PHOTO CREDIT: GETTY IMAGES)
FROM CNN's Jack Cafferty:
Race is arguably the biggest issue in this election, and it's one that nobody's talking about.
The differences between Barack Obama and John McCain couldn't be more well-defined. Obama wants to change Washington. McCain is a part of Washington and a part of the Bush legacy. Yet the polls remain close. Doesn't make sense…unless it's race.
Time magazine's Michael Grunwald says race is the elephant in the room. He says Barack Obama needs to tread lightly as he fights back against the McCain-Palin campaign attacks.
Watch: Cafferty: Is race a factor?
He writes, "Over the past 18 months, Obama has been attacked as a naive novice, an empty suit, a tax-and-spend liberal, an arugula-grazing élitist and a corrupt ward heeler, but the only attacks that clearly stung him involved the Rev. Jeremiah Wright – attacks that portrayed him as an angry black man under the influence of an even angrier black man."
The angry black man, he goes on to say, doesn't have broad appeal in White America. And even though the makeup of our population is changing, whites are still the majority in this country. How ironic that the giant step forward of nominating an African American for president may ultimately keep us mired in the past.
Here's my question to you: Will Barack Obama's race cost him the White House?
Interested to know which ones made it on air?
Mike from St. Louis, Missouri writes:
Considering the disaster of these past 8 years with a Republican White House, a "typical" Democratic candidate would have an insurmountable lead in this campaign now. While Barack Obama is an inspiring leader and promises to heal our nation, I fear that his race is a major factor in the close nature of this election. There is still a lot of racial distrust in our country.
Charla from Dekalb, Texas writes:
I live in a rural Texas community, and it quite frankly still isn't safe to publicly be a white person in support of Obama. The world hasn't really changed much here. Most white people in this area still think that "blacks have their place", and apparently POTUS isn't one of those places. I just don't get it really. I was raised by parents who believe this way, I rose above it, why can't others?
Tom from Florida writes:
If you're drowning and a man is throwing you a rope, what difference does his race make? We are drowning and I hope America is better in 2008 than it was in my father's day. Ignorance has always been a trait of bigots, I hope they are smart enough to grab the rope or we will all drown.
Glenn from Houston, Texas writes:
Barack Obama's race won't cost him the White House. Selecting Joe Biden instead of Hillary Clinton for vice president will cost him the White House. It is as simple as that.
Kirk writes:
When over 90% of African-Americans are polled and saying they are voting for Obama, why is there no question as to racism being a possible motive of those voters? Why is it that anyone who doesn't vote for Obama be considered racist? What if people just don't agree with his policies? Obama is very liberal-leaning, is it so shocking that this would polarize voters?
George writes:
My heart wants the answer to be race won't cost Obama the election, but my head says it will.