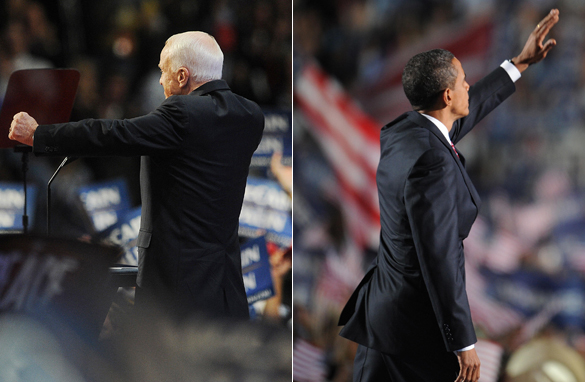 Can McCain or Obama better handle the country's financial crisis? (PHOTO CREDIT: GETTY IMAGES)
FROM CNN's Jack Cafferty:
Former Chairman of the Federal Reserve, Alan Greenspan is calling it a "once in a century" financial crisis.
Lehman Brothers– one of the oldest investment banks on wall street– has filed for bankruptcy after it failed to find a buyer. Another financial institution, Merrill Lynch is being bought by Bank of America. And insurance giant AIG– the largest insurer in the country– is desperately trying to raise cash in order to stay in business. The stock market took a huge hit today...Fannie Mae and Freddie Mac are already under federal takeover-their stock is worthless...And Wilbur Ross-a billionaire investor-predicts we could see 1,000 bank failures in the months ahead.
"Change" and "reform" are two words we hear a lot of on the campaign trail. When it comes to our financial system, we need both. And it seems clear that things are going to get worse before they start to get better.
Here's my question to you: Which candidate is better able to handle a "once in a century" financial crisis?
Interested to know which ones made it on air?
Claire from Melbourne, Florida writes:
Obama has way more credibility than McSame. He wasn't instrumental in voting for all the deregulatory legislation that put us in this mess. Put the blame where it belongs, on the Republican enablers in Congress who gave Bush-Cheney free rein in everything. They all gotta go. Now.
Wayne writes:
McCain said today, 'Fundamentally, the economy is in good shape'. What planet is this guy living on? Just sickening.
Terri writes:
It is embarrassing for me to admit I am a Republican. McCain-Palin represent everything wrong with politics. I can't believe that man said our economy is structurally sound. But considering he doesn't know how many homes he has, yes I do believe it! I am voting for Barack Obama, a Democrat for the first time in 30 years.
Von from Jacksonville, Florida writes:
Jack, I'll take the critical thinking top of his class Harvard guy over the old guy that graduated at the bottom of his class.
Michael and Diane from Phoenix, Arizona write:
The last "once in a century financial crises" in this country was the Great Depression run by Republicans, with a Republican President Hoover, who didn't know much about the economy either. It took a Democrat to get us out of that one then and it looks like it may again.
Jim from Denver, Colorado writes:
My vote is for McSame... we have a strong and vibrant economy, we have a strong and vibrant economy, we have a strong and vibrant economy...