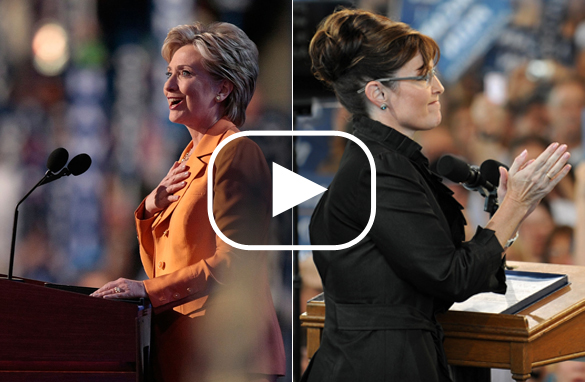 Click the play button to see what Jack and our viewers had to say. (PHOTO CREDIT: GETTY IMAGES)
FROM CNN's Jack Cafferty:
Campaigning for Barack Obama in Ohio this weekend, Senator Hillary Clinton revised one of her "zingers" from the Democratic National Convention last month - "No way, no how, no McCain..."
Yesterday she added, "No Palin."
Clinton went on to criticize the McCain ticket but did not single out Governor Sarah Palin again in the speech.
Palin meanwhile hit the campaign trail solo in Colorado today.
She told voters there that she and John McCain were going to shake up Washington.
Watch: Cafferty: Who's more authentic?
Hindsight being what it is, some are questioning whether Barack Obama made a mistake when he chose senator Joe Biden instead of Hillary Clinton as his pick for vice president.
With the Sarah Palin phenomenon taking hold, these people now appear to have been prescient.
Here's my question to you: Which woman has more credibility with the average American, Sara Palin or Hillary Clinton?
Interested to know which ones made it on air?
Michelle from Florida writes:
You can't compare Sarah Palin to Hillary Clinton. Hillary has a clear record of accomplishment, a long and clear record. Palin has the Bridge to Nowhere and an investigation into her ethics.
Robert writes:
Hillary is the same, tired, feminist diatribe that we've always heard from Washington. Palin is something new and she has messages from a female perspective that feminists have been telling us were non-existent. Amazingly we are seeing women back her in numbers that we've never seen behind another female candidate.
Aric from Mountain View, California writes:
This is kind of a silly question. We all know the reasons McCain chose Palin were merely anatomical and political. Hillary Clinton was not running for president because she was a woman, she was running for president because she, and many voters, felt she was qualified. No matter how many speeches the McCain camp carefully scripts for Gov. Palin, she is merely a sign of how out of touch McCain really is if he thinks that he can win this election by pandering to the female vote.
Amy writes:
I think the true question would be which one can you trust. I vote Palin.
Bobby writes:
If you take any of the four candidates to the small Oklahoma town I grew up in, and walk them into the "coffee shop" where the locals convene to discuss the news of the day, Governor Palin will win hands down. She is comes to the office with a real background as a real person with real world and grass roots experiences. She is a true life "Mr. Smith goes to Washington."
Terry from Butte, Montana writes:
That's a no brainer. Hillary has fought for us for many years on the national level, Palin can see Russia from her house. It is like comparing a Major League Hall of Famer to a little league relief pitcher.