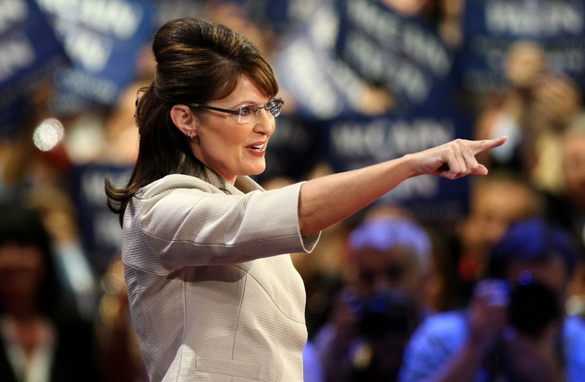 On October 2, Sarah Palin and Joe Biden will have a vice presidential debate (PHOTO CREDIT: GETTY IMAGES)
FROM CNN's Jack Cafferty:
Sarah Palin electrified that crowd of Republican delegates and supporters last night in St. Paul.
The little known Alaska Governor – who was thrust into the spotlight last week as John McCain's running mate – went on the attack against Barack Obama as well as the media and the so-called Washington elite, while praising McCain. She introduced her family and painted herself as someone who can relate to small town, working-class Americans. Palin described herself as an outsider to Washington – an "average hockey mom" who joined the local PTA which started her rise to governor.
But when it came to solutions to America's myriad problems, Palin was noticeably lacking. She stuck mostly to what she knows: energy. And although she claimed to be as qualified as Obama to be president, Palin didn't tell us what exactly she would do as vice president, a job whose description she wasn't quite clear on just one month ago.
Last night was part one for Palin, and she proved she can rally the base in a way that McCain can't. But, she still hasn't faced questions from the media – which presumably will happen at some point now that she's hitting the campaign trail. At some point Palin will be forced to deal with events that are less scripted and less friendly than last night's. On October 2, she and Joe Biden will tangle in the vice presidential debate where his foreign policy experience dwarfs hers.
Here's my question to you: Does Sarah Palin help or hurt John McCain's chances of becoming president?
Interested to know which ones made it on air?
Pat from New Jersey writes:
Jack, The woman described herself perfectly as a pit bull with lipstick. Apparently she's a better shot than Cheney, but that may be the only improvement in having her as V.P. If they win, I will get on my knees daily to pray for McCain's good health.
JB writes:
As a long time independent, I was hoping that Governor Palin would provide a very motivational speech last night such as the one Senator Obama provided a week ago. What she unfortunately provided was just a lot more of the usual Republican "we're right, they're wrong" drivel. John McCain better deliver something motivational, frank, refreshing and hopeful and get off the "they're just wrong" bandwagon, or he's lost the race.
Rene from Connecticut writes:
Absolutely. What a compliment to McCain (youth, spunk, energy, intelligence). To all the Democrats who thought they had a cake walk to the White House, wake up and smell the coffee. Palin is for real and a lot of people relate to her. Can't wait to hear McCain tonight.
Bracey writes:
It hurts McCain. She showed a knack for insults. But now can she come up with answers for our job losses, increased food costs, increased gas prices, decreased wages, increased foreclosures, decreasing home equities, health care needs, terrible relations with our allies, and a senseless cowardly war... all of which was caused by the GOP?
Steve from Oklahoma writes:
McCain's campaign was faltering before he selected Palin. She's given him a fighting chance in November, something that Ridge or Lieberman never would have given him. If the GOP is going down, at least they're going down swinging.
Sheryl writes:
Sarah Palin is Dick Cheney with lipstick.