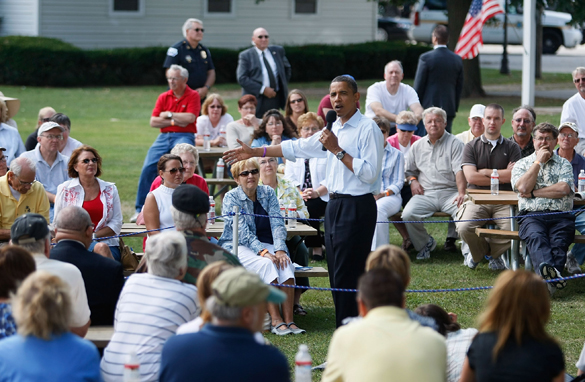 Barack Obama spoke at a campaign event at the Mississippi Valley Fairgrounds in Davenport, Iowa.(PHOTO CREDIT: GETTY IMAGES)
FROM CNN's Jack Cafferty:
Seems like a long time ago. January 3, 2008. That night, in the dead of winter, the earth moved in Iowa.
In freezing temperatures, Iowans gathered all across the state for their caucuses. Nobody was looking for any big surprises. Hillary Clinton figured she'd win in a walk. She didn't even bother to campaign there much. But a political unknown had worked his tail off in the Hawkeye state. And when the votes were counted, an improbable journey began.
Barack Obama was on his way, given a huge tailwind by a state that is 95% white. In fact, that night on CNN I remarked that "the only place whiter than Iowa is the North Pole." And Iowans' love for the man from Illinois has remained as rock solid as their principles.
Once again Iowa is at the forefront in this presidential campaign. In the latest CNN/Time Magazine/ Opinion Research Corporation poll out yesterday, Obama has surged to a commanding 15 point lead over John McCain. 55% Obama to 40% for John McCain. Iowa was rated a toss-up until yesterday, and with the way the electoral map is shaping up these new numbers are huge for Obama.
On CNN's electoral map, both Iowa and Minnesota have now been changed from toss-up to leaning Obama, putting the most unlikely candidate for president in our nation's history tantalizingly close to the magic electoral 270 votes needed for election. There are still eight weeks to go, but make no mistake. If Obama goes all the way, white people in Iowa will be a big part of the reason why.
Here's my question to you: How important is it that Iowa, which is 95% white, remains firmly behind Barack Obama?

Tune in to the Situation Room at 5pm to see if Jack reads your answer on air.
And, we love to know where you're writing from, so please include your city and state with your comment.