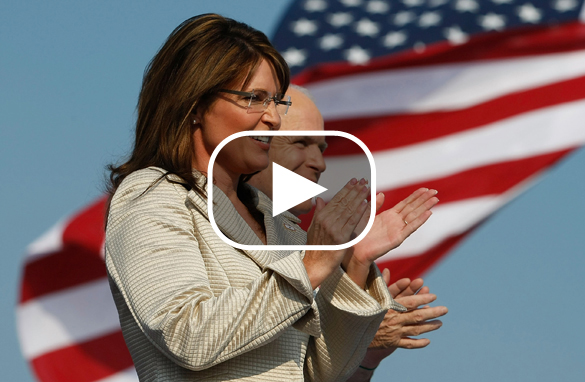 Click the play button to see what Jack and our viewers had to say. (PHOTO CREDIT: GETTY IMAGES)
FROM CNN's Jack Cafferty:
There's a growing sense that John McCain may not have done all his homework before making his V.P. pick.
Alaska Governor Sarah Palin is now grabbing headlines for all the wrong reasons: her 17-year-old unmarried daughter is pregnant.Palin has hired a private lawyer in the trooper probe ethics investigation. She was for the bridge to nowhere before she was against it. Palin appeared at a convention of the Alaska Independence Party - which tried to get votes on whether the state should secede from the union. Her husband was arrested 22 years ago on a DUI. And, although Palin is now railing against earmarks, she got hundreds of millions of dollars in federal funding for local projects as both governor and as mayor of Wasilla.
Watch: Cafferty: Palin vetting?
There's more. What about her foreign policy credentials? CNN's Campbell Brown repeatedly asked McCain spokesman Tucker Bounds last night why Palin is ready to be commander-in-chief, what qualifications she has, and to name one foreign policy decision Palin has made – Campbell never got an answer. It's reported that Palin may have only traveled overseas once, last year to Germany and Kuwait.
This has all led many to wonder how thorough of a vetting the Alaska governor got. McCain only met with Palin once and had one phone conversation with her before offering her the job. It raises serious questions about the kind of judgment McCain would use as president to make other big decisions.
Here's my question to you: Was Governor Sarah Palin properly vetted before being named John McCain's V.P.?
Interested to know which ones made it on air?
Tom from Huntington, New York writes:
The operative word here is properly. It is obvious that they gave her a quick once over and McCain decided she was it. There will be more information forthcoming about Gov. Palin. I think that by this time next week she will step down due to "family considerations".
Jennifer writes:
McCain's decision to put Palin on the ticket shows that he makes decisions based on what's good for him (without thinking or checking) and not good for the country. How could he put someone like that one melanoma away from the presidency? He went with his gut? That makes sense, because it surely wasn't a decision made with his brain.
Lyn from Petoskey, Michigan writes:
Let's see: he met her for a full fifteen minutes, no one in Alaska can remember being approached during the "process", her 17-year-old daughter is pregnant and she's under investigation for improperly using gubernatorial power? YA THINK?
Rick from Simi Valley, California writes:
Sarah Palin is looking more and more like one of those people you see on the Jerry Springer Show. I can't wait to see what future revelations come out regarding Palin and her past.
Wendy from North Carolina writes:
Good grief, I am more qualified to be V.P. if this is McCain's version of vetting! If you really want to get the Palin picture, have her debate Hillary! Now that would be fun to watch.
Mary from Baltimore writes:
If this is the judgment he used in selecting a vice president, good luck to all of us if he gets to the White House. An elderly gentleman with a history of a serious medical problem has chosen an inexperienced person from a remote village and state to be his back-up and perhaps president of the country. This is Katrina for the rest of us.
Kevin from Massachusetts writes:
I believe her name was picked from a hat. Does that count as vetted?