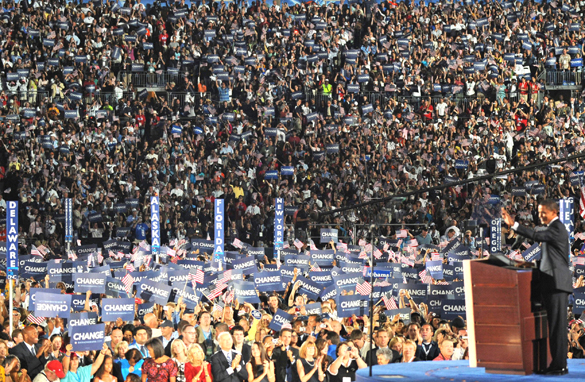 Obama's campaign is encouraging his supporters to reach out to unregistered voters.(PHOTO CREDIT: GETTY IMAGES)
FROM CNN's Jack Cafferty:
"We are here because we love this country too much to let the next four years look just like the last eight."
And with that, Barack Obama accepted his party's nomination in front of 84,000 people in Denver, Colorado. It was the climax to a political convention unlike anything anyone's ever seen before.
To the relief of many Democrats, Obama ripped into his rival John McCain, painting him as out of touch with ordinary Americans, "It's not because John McCain doesn't care... it's because John McCain doesn't get it." Obama described his own upbringing by a single mother and grandmother, food stamps, student loans, etc. – saying "I don't know what kind of lives McCain thinks that celebrities lead, but this has been mine."
He referenced McCain's famous temper, saying he's ready to debate McCain on who has the temperament, and judgment, to be commander in chief. The crowd ate it up.
But the Democratic convention is now over and Obama and Joe Biden have just 67 days to close the deal with voters. They started today with a bus tour of the battleground states of Pennsylvania, Ohio and Michigan.
Obama's campaign encouraged his supporters to text message friends and call thousands of unregistered voters. The campaign says it's identified 55 million unregistered voters across the country – including about 8 million blacks, 8 million Hispanics, and 7.5 million people between the ages of 18 to 24. These Americans could elect our first African-American president.
Here's my question to you: In the final 67 days, what does Barack Obama have to do to win the White House?
Interested to know which ones made it on air?
Lorenzo from Darnestown, Maryland writes:
Jack, He needs to do what he spelled out at the convention. Stay on message. Take the conversation to the people. Stay focused on the issues. Tell folks to do their part and the government will do its part. They already know how bad it is. This sounds simple but if he follows this simple strategy this is lights out for the Republicans.
Joe from Illinois writes:
McCain just handed him the election. All Obama has to do is breath from here on out.
Lance from Madison, Wisconsin writes:
Jack, Barack needs to do exactly what he did last night. Point out McCain's weaknesses, but not to the point of being rude. Barack Obama is an inspirational speaker. He needs to continue to inspire voters while implementing why he would be a great president within the same speech. We saw that last night, and seeing it in the future could spell success for Obama/Biden in '08.
Barry writes:
He's done his part, and brilliantly. Now it's up to the rest of us to get the voters out on Election Day.
Roy writes:
I don't think he can do anything to win. I think by Election Day people will see that he is just a great talker and that is about it. I am a life-long Democrat and wouldn't vote for that guy no matter what. He just doesn't have what a real leader needs.
Emmie from Boston writes:
Jack, It is all about getting new voters to the polls in November. If the Obama campaign is successful at this, all of the mainstream polls and pundits will prove to be meaningless.
Kody writes:
Jack, All Obama has to do is sit back and wait on McCain to make his next decision.