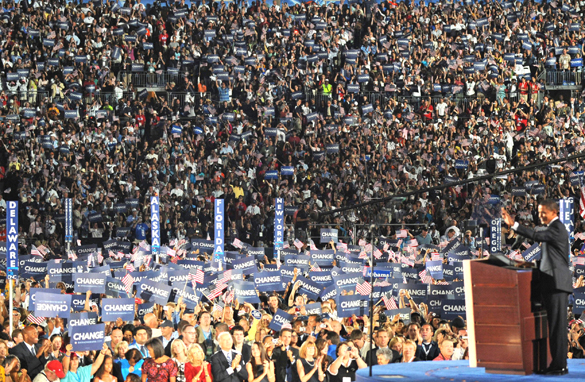 Obama's campaign is encouraging his supporters to reach out to unregistered voters.(PHOTO CREDIT: GETTY IMAGES)
FROM CNN's Jack Cafferty:
"We are here because we love this country too much to let the next four years look just like the last eight."
And with that, Barack Obama accepted his party's nomination in front of 84,000 people in Denver, Colorado. It was the climax to a political convention unlike anything anyone's ever seen before.
To the relief of many Democrats, Obama ripped into his rival John McCain, painting him as out of touch with ordinary Americans, "It's not because John McCain doesn't care... it's because John McCain doesn't get it." Obama described his own upbringing by a single mother and grandmother, food stamps, student loans, etc. – saying "I don't know what kind of lives McCain thinks that celebrities lead, but this has been mine."
He referenced McCain's famous temper, saying he's ready to debate McCain on who has the temperament, and judgment, to be commander in chief. The crowd ate it up.
But the Democratic convention is now over and Obama and Joe Biden have just 67 days to close the deal with voters. They started today with a bus tour of the battleground states of Pennsylvania, Ohio and Michigan.
Obama's campaign encouraged his supporters to text message friends and call thousands of unregistered voters. The campaign says it's identified 55 million unregistered voters across the country – including about 8 million blacks, 8 million Hispanics, and 7.5 million people between the ages of 18 to 24. These Americans could elect our first African-American president.
Here's my question to you: In the final 67 days, what does Barack Obama have to do to win the White House?
Interested to know which ones made it on air?