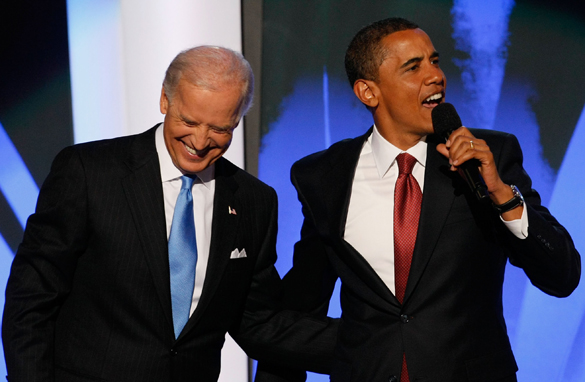 (PHOTO CREDIT: GETTY IMAGES)
FROM CNN's Jack Cafferty:
Even for a guy who's used to delivering impressive speeches, tonight is big.
Barack Obama will address 80,000 people at Denver's Invesco Field as the first African-American nominee ever for a major political party, on the 45th anniversary of Martin Luther King Jr.'s "I have a dream" speech. No pressure.
Millions more will watch him on TV – and to many of them, Obama is still an unknown. The Democratic nominee has said there are two things he wants to accomplish tonight – to make the choice between himself and John McCain as clear as possible and to tell America what he stands for.
Obama wrote a first draft of his speech longhand last week, and then worked on it with his speechwriters. He looked to previous convention speeches from people like John Kennedy, Ronald Reagan and Bill Clinton for inspiration.
Friends say Obama has become sensitive to criticism that his speeches lack content. So look for specifics on how he'll fix the country's problems tonight. But he also must connect with his audience on an emotional level. There will be lots of time for policy. Tonight he's got to make people want to vote for him. To do that, he's got to touch their feelings.
Here's my question to you: What can Barack Obama say tonight to convince you to vote for him?
Interested to know which ones made it on air?
Steven from Hendersonville, Tennessee writes:
All he has to do to solidify my vote is get through his speech without using the phrases "My Friends" or "five and a half years in a POW camp" more than 20 times. America is getting tired of the McCain sentence construction that goes something like this: "My friends, noun, verb, five and half years of captivity." Being a war hero and having leadership skills are two different things.
Tim from Montana writes:
In order to get my vote, Barack Obama has to tell me, in plain terms that a non-Harvard grad can understand, what exactly he is going to change and how soon his so called great policies will help my family. I don't want a motivational speech or Sunday sermon; we all know the Bush/McCain Republicans screwed up but that doesn't necessarily mean I am voting for Obama.
Nick from New Orleans writes:
Jack, I only worry about one thing with Obama: I worry how he'll stand up against the Putins and Ahmadinejads and Chavezes of the world. I'd really like to hear him address that. But I'll vote for him anyway. How's that expression go? No way, no how, No McCain.
Brian from Moscow, Idaho writes:
Jack, Obama could tell me that he was going to deport my family to Pakistan and I'd still vote for him over McCain. After all, McCain and his love for war and the draft would probably mean I'd end up in the Middle East anyways!
Marty writes:
I think if he uses a mixture of what Hillary and Bill Clinton said and drive it home with a little Biden commonality, he will win over independent voters. McCain already handed Obama my vote with his lack of substance and negative ads.
Karolyn from Scottsdale, Arizona writes:
Absolutely nothing. In four or eight more years when he gains some depth and experience in the trenches, I will consider it.
Ryan writes:
If he announces that Stephen Colbert will be his Secretary of State, I will vote for him.