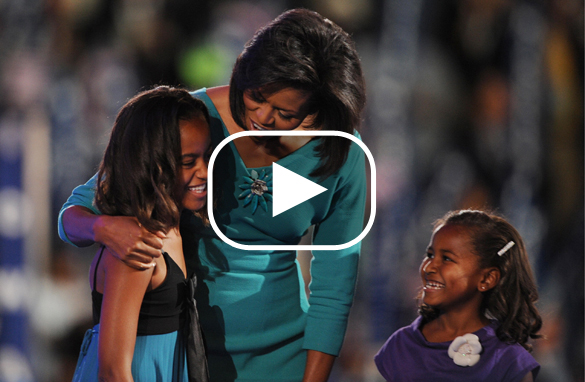 Click the play button to see what Jack and our viewers had to say.(PHOTO CREDIT: AP PHOTO)
FROM CNN's Jack Cafferty:
Michelle Obama's speech last night was meant to convince Americans that her family is just like the rest of us.
The wife of the presumptive Democratic nominee talked about things like family and hard work – that should resonate with millions of people across the country. The idea is to calm the fears of some that Barack Obama is different and unknown with an exotic background.
Michelle Obama described herself as a daughter, wife and mother coming from a blue-collar background – her dad was a city worker in Chicago. She talked about the anxiety her husband felt when driving their oldest daughter home from the hospital as a newborn, and what she thinks about when she tucks her two girls into bed at night.
Watch: Cafferty: Relate to Obamas?
Mrs. Obama said her husband is an ordinary man, joking about his love of basketball. She talked about his being raised by a single mother and grandparents who "scrimped and saved" so they could give him opportunities they never had. She also tried to put to rest questions about her own patriotism, declaring,"I love this country".
At the end of her speech, viewers were treated to an unscripted moment between her two young daughters and her husband via a live video hookup. The girls evaluated their mom's speech and told their "daddy" that they loved him. A moment that could go far in cementing the image of the Obamas as an American family like any other.
Meanwhile, a new Gallup poll suggests Michelle's speech could make a difference, with more than half of Americans saying a candidate's spouse is an important factor in their vote.
Here's my question to you: How much do you feel you have in common with Michelle and Barack Obama?
Interested to know which ones made it on air?
Denise writes:
A lot. My husband and I work hard for the things that we have and try to provide a good life for our family. They are like most people, despite skin color, even though I am African-American.
Molly writes:
Anyone who was not moved by Mrs. Obama's speech last night has a heart of steel. They are a regular American family – not perfect, but real. The reason people feel they are "different" or unknown is because they would be the first BLACK first family. The Obamas are not any less known than the Clintons were when they ran. They just look different. If America can manage to elect Barack Obama, the deep-rooted unconscious racism that plagues our country could begin to heal in profound ways.
Pugas from Arizona writes:
Nothing. I don't have the "audacity" to think I could be president.
Colleen from Charlotte, North Carolina writes:
Hmmm, grew up in the Midwest, 40-50 years old, two kids, one house, college educated, want a better life for kids, middle-working class, did not want to go to war in Iraq...Quite a bit I guess.
R.C. writes:
I have nothing in common with the Obamas. I don't hang around with rabid racists like Jeremiah Wright and Father Phleger. And I don't socialize with homegrown terrorists like William Ayers.
Lorraine writes:
A lot. It reminded me of when I was a little girl and my father was in Vietnam while my mother took care of the home-front. We went through many of the same things as a family.
Kerry writes:
We live in the same country.
Chris from Thousand Oaks, California writes:
I have a lot more in common with the Obamas than Old Man River and the Ice Princess.
Darlene from Pennsylvania writes:
I feel like Michelle is my sister and Barack is my brother. And I am white.