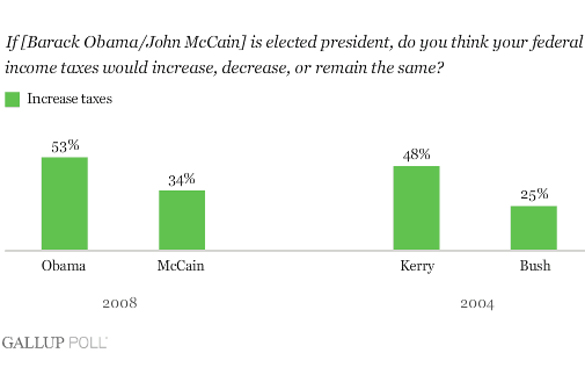 (PHOTO CREDIT: GALLUP)
FROM CNN's Jack Cafferty:
During these shaky economic times, many Americans are betting on higher taxes – no matter who the next president is.
A new Gallup poll shows 53% of those surveyed think Barack Obama would raise their taxes as president; 34% think John McCain would hike taxes if he gets the job. Both of these numbers are higher than what Americans expected from John Kerry and George Bush last time around.
And, what's especially interesting is that a substantial number of independents – that ever-important voting bloc – think their taxes will go up under either candidate.
Republican John McCain has pledged to renew President Bush's tax cuts, which he opposed twice while in the Senate. However after he promised not to raise taxes, McCain now says nothing can be ruled out in order to keep Social Security solvent.
As for the Democrat, Barack Obama, he's said he'll raise income taxes on the wealthiest but provide a tax cut to middle class Americans.
Although more people think their taxes would go up under an Obama administration – they also think he is better equipped to handle the issue of taxes. Gallup suggests this may be because a majority of Americans think Obama's policies will benefit the middle class and the poor most... while they think McCain's policies will help the wealthy.
Here's my question to you: Are higher taxes inevitable with the next president?
Interested to know which ones made it on air?
T. writes:
Jack, They teach you the first 10 minutes of undergrad finance class that revenue needs to exceed expenses; apparently George Bush missed that day of school when getting his MBA at Harvard. Thus, in order to shore up the increase in expenses under the Bush administration, whoever is the next president will have to increase taxes or significantly cut expenses.
Rob writes:
As a fiscal conservative, I sure hope taxes go up. Since neither party has the guts to lower spending the only option is to raise the money to pay the bills. A fiscal conservative believes in paying the bill as it comes due, not putting it on a Chinese Credit Card.
Ted from Rockaway, New Jersey writes:
Isn't it obvious, Jack? By funding tax cuts for the rich and delusional wars by borrowing money from China, the Bush Republicans raised taxes on the one entity that could not object - they raised taxes on the future!
Grady from Texas writes:
Jack, Of course it's inevitable that taxes will go up for somebody. The question really is, do we want to raise taxes on the wealthiest 1% of Americans or would we rather see middle-class citizens struggling under proportionally high tax rates?
Eli writes:
The policies of the Bush administration have ensured that either candidate promising to deliver fiscal responsibility must do the responsible thing. As a 19-year-old, the responsible thing is to PAY OFF OUR DEBT! Our debt as a nation is a greater national security threat to our economy than global terrorism!
Joe writes:
Will my taxes go up no matter who is elected president in November? Will the sun rise in the East tomorrow morning? Of course they will.