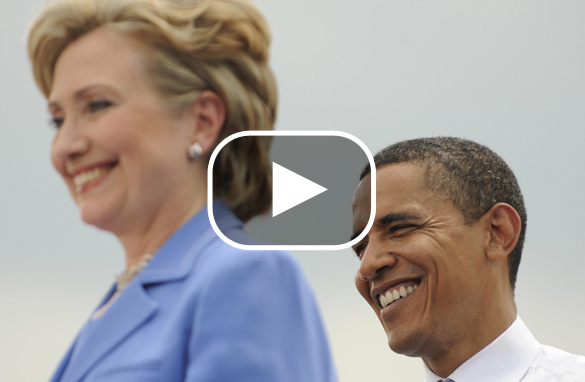 Click the play button to see what Jack and our viewers had to say. (PHOTO CREDIT: GETTY IMAGES)
FROM CNN's Jack Cafferty:
I have started writing a weekly column for CNN.com. This week the headline is "The Beverly Hillary-billies come to Denver." (You will be able to read it tomorrow on cnn.com.)
Despite all the rosy assurances from both sides, there are signs of lingering deep bitterness between the Obama and Clinton camps. And it's a division and bitterness you could see coming in South Carolina. And John McCain is using Hillary Clinton like a baseball bat to hit Barack Obama over the head, using her own words from the primaries against him.
The Clintons will have ample opportunity to try to heal the wounds this week at the convention, but I'm beginning to wonder if they're capable. Hillary speaks tomorrow night, former president Bill Clinton on Wednesday night.
Watch: Cafferty: Clinton overlooked?
According to CNN's own poll, 66% of Clinton supporters – these are registered Democrats who wanted Hillary to be the nominee – 66% say they're backing Obama. That's down from 75% in June. At the same time, the number of Clinton Democrats who say they will vote for John McCain has gone up 11% since June.
And this may be the telling number. Only 59% of Hillary's supporters say the selection of Senator Joe Biden as Obama's running mate was an "excellent" or "good" decision. Among all registered Democrats that number jumps to 73%.
Here's my question to you: Is it possible that not picking Hillary Clinton as a running mate could cost Barack Obama the election?
Interested to know which ones made it on air?
Tom from Jacksonville, Florida writes:
Absolutely not. The Clinton name enrages and energizes the Republicans and she does not help in attracting the independent voter. I hope that all of her supporters come to their senses and realize that a vote for McCain is against their own interests. In these complex and difficult times, we cannot afford to have the same unintelligent and shallow republican leadership that we have had for the past 8 years.
Carol writes:
It was the easy way to mend the Democratic Party, but some people enjoy doing things the hard way. I think his chance of winning could be lost on his choice. Many of the attributes of Biden are the ones that they use against McCain. Temper and age being just two. And he looks like McCain.
Mark writes:
Jack, it is possible that not picking her could cost him the election. If he had picked her, it definitely would have cost him the election.
Colleen writes:
Obama lost my vote when he did not pick Hillary as his running mate. To quote an old phrase he "cut off his nose to spite his face" – really a stupid move. Had he picked her, he would have won, hands down. Now his chance has diminished. I will vote McCain.
Shirley from Jacksonville, Florida writes:
Wrong song! We are not voting against Bush. We are voting against Republican policies that see teachers forced to buying supplies, health clinics under-funded, jobs gone overseas, insurance costs and the song goes on. Do not count us out - us quiet voters who listen to the talking heads and hope you realize we are out here.
Phil from Queens, New York writes:
Biden is the right choice in one regard: the energy crisis. He is the largest source of natural gas in America. If you can figure a way to hook him up, he would light up the entire eastern seaboard.