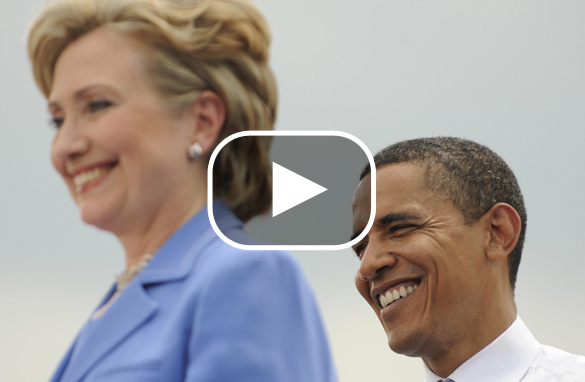 Click the play button to see what Jack and our viewers had to say. (PHOTO CREDIT: GETTY IMAGES)
FROM CNN's Jack Cafferty:
I have started writing a weekly column for CNN.com. This week the headline is "The Beverly Hillary-billies come to Denver." (You will be able to read it tomorrow on cnn.com.)
Despite all the rosy assurances from both sides, there are signs of lingering deep bitterness between the Obama and Clinton camps. And it's a division and bitterness you could see coming in South Carolina. And John McCain is using Hillary Clinton like a baseball bat to hit Barack Obama over the head, using her own words from the primaries against him.
The Clintons will have ample opportunity to try to heal the wounds this week at the convention, but I'm beginning to wonder if they're capable. Hillary speaks tomorrow night, former president Bill Clinton on Wednesday night.
Watch: Cafferty: Clinton overlooked?
According to CNN's own poll, 66% of Clinton supporters – these are registered Democrats who wanted Hillary to be the nominee – 66% say they're backing Obama. That's down from 75% in June. At the same time, the number of Clinton Democrats who say they will vote for John McCain has gone up 11% since June.
And this may be the telling number. Only 59% of Hillary's supporters say the selection of Senator Joe Biden as Obama's running mate was an "excellent" or "good" decision. Among all registered Democrats that number jumps to 73%.
Here's my question to you: Is it possible that not picking Hillary Clinton as a running mate could cost Barack Obama the election?
Interested to know which ones made it on air?