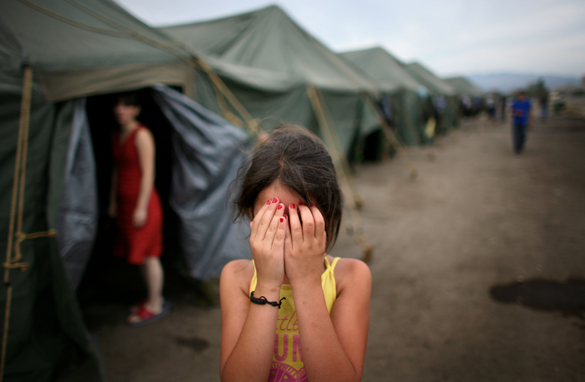 A refugee shelter in Tbilisi, Georgia. (PHOTO CREDIT: GETTY IMAGES)
FROM CNN's Jack Cafferty:
Barack Obama wants to give one billion American dollars to the Republic of Georgia for reconstruction efforts. The United States is already providing humanitarian assistance… as it should. This would be extra. The proposal actually came from Senator Joseph Biden, chairman of the Foreign Relations Committee, who is also rumored to be on Obama's shortlist for V-P.
Biden went to Georgia last week and came back saying the Russian invasion of its neighbor is quote "one of the most significant events to occur in Europe since the end of communism." end quote. Biden's vowing to work with the White House to get legislation passed so that the U.S. can start spending that money as soon as Congress reconvenes.
Hey it's not like we aren't already spending a few bucks overseas. $700 billion a year on imported oil… 200 billion a year on the wars in Iraq and Afghanistan. Tens of billions to rebuild Iraq's infrastructure.
Now it's time to start boxing up hundred dollar bills and sending them to Mr. Saakashvili who started this whole dust up with the Russian bear? Give me a break.
We're almost ten trillion dollars in debt… with 63 trillion in unfunded liabilities for our own entitlement programs like medicare and social security… an estimated 500 billion dollar deficit for next year. Our own infrastructure is falling down around our ears… I mean come on… I'm sure the Georgians are very nice people… but we're busted over here.
Here's my question to you: Should American taxpayers spend $1 billion for reconstruction in the republic of Georgia?
Interested to know which ones made it on air?
Stephanie from Minneapolis, Minnesota writes:
Are we seriously discussing donating $1 billion to Republic of Georgia when the Gulf Coast STILL lies in ruins from Hurricane Katrina?
Alex from North Carolina writes:
A problem we didn't create is not a problem we should pay for, unless we can borrow it from China. Oh that's right. We have been there and done that. Obama you have lost a voter!
Billy from Las Vegas writes:
The Russians broke it. Let them pay for it. We have enough problems in our own State of Georgia (and the other 49).
Maybe they can get a loan from the Iraqis? They got $79 BILLION dollars sitting in various banks.
George from Tacoma, Washington writes:
Yes, if we allow the Russians to reassert their control over the region, 1 billion dollars will be nothing compared to what we will spend out of fear. We will spend less than we would later if we bail on them… Stop them now and stop them fast. It's a bargain.
Bill from Tampa, Florida writes:
What would a Billion dollars do to help support our education system? It would do a Hell of a lot! There would be no more schools with Asbestos, no more outdated books. The answer is No Jack!!!!!
Rufus from Twentynine Palms, CA writes:
Jack, you owe me a new keyboard for my computer…I just spat Diet Dr. Pepper all over it when I read this question. It convinced me that you missed your calling as a stand-up comedian. If we have that kind of money to spend cleaning up Russia's messes, then send me a few billion so I can build that EPIC Jack Cafferty Comedy Club in Branson, Missouri…a monument to the funniest old curmudgeon that ever lived.