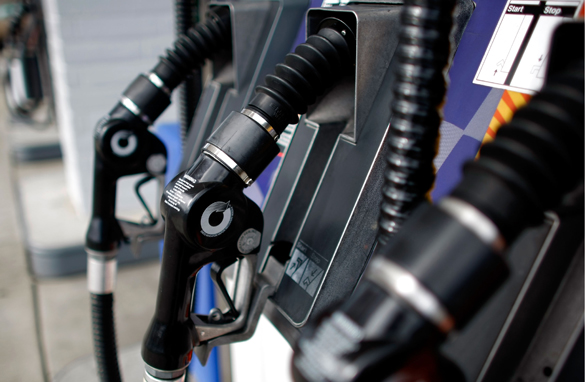 (PHOTO CREDIT: GETTY IMAGES)
FROM CNN's Jack Cafferty:
With high gas prices have come a chorus of election year ideas about what to do. And when those voices start singing, the oil company lobbyists spring into action. See, a lot of Americans blame the big oil companies for our energy problems. The oil industry is fighting back with tens of millions of dollars being spent by their lobbyists to keep Congress from punishing them.
In fact, the big oil companies are on track to surpass last year's record spending for lobbyists of $83 million, according to the Center for Responsive Politics.
And it seems to be working. See, suddenly the oil industry is the subject of a bunch of proposed legislation in Congress - none of it good for the oil companies. Democrats and environmentalists generally favor higher taxes on the oil companies and more funding for renewables. Republicans want the oil companies to drill more oil wells.
When it comes to lobbying the presidential candidates, big oil has spent $11 million so far - with Republican candidate John McCain benefiting the most. He's received $1.4 million in cash contributions from oil employees – that's the most of any candidate – and three times as much as Barack Obama.
Remember I said its working? So far, no legislation has cleared Congress on any of this. Gas prices are coming down a little on their own. And Congress is on vacation. A financial analyst would suggest the millions of dollars spent on lobbying by the oil companies is money well spent.
Here's my question to you: Can your voice be heard when the oil industry will spend more than $80 million lobbying Congress this year?
Interested to know which ones made it on air?
Michelle writes:
Are you kidding, Jack? There is no way that the average American's voice will be heard over the jingle-jingle of big oil's pockets in Congress. Sadly, there aren't enough self-respecting representatives remaining to refuse their money and silence them.
David from Granville, Ohio writes:
The Obama campaign is establishing hundreds of local "community groups" JUST so that the voice of the "common person" is heard louder than special interests. These community groups will remain in place after the election to continue to give you and I and people like us a voice. Just one of the many important "changes" Barack will bring when elected!
Ray from Nashville, Tennessee writes:
Jack, Money talks and the oil companies, with their record profits, have to talk loud enough to drown out all of us little guys.
Chad writes:
If the idiots in Congress had any understanding of economics whatsoever, no company would need to spend $80 million for lobbying. But, when we continue to elect slick-talking socialists repeatedly to the Congress, none of whom have ever run a business, balanced a budget, delivered a product, introduced a new product, invested in R&D, or anything remotely related to running a business, this is what we get: never-ending needless government intrusion and anemic under-performing markets.
Businesses and consumers are smart enough to buy the products they want. Businesses and consumers ARE the market. Let the market sort outits own problems.
Carol from Durham, Maine writes:
The only way to 'speak' to power is to vote. My voice is small compared to that of a lobbyist, or the oil man with millions. However, I do have hope. If T. Boone Pickens, a big oil man himself has actually begun to promote alternative energy, wind, solar etc. With luck and a new president being firm on a new direction, maybe the rest will follow.