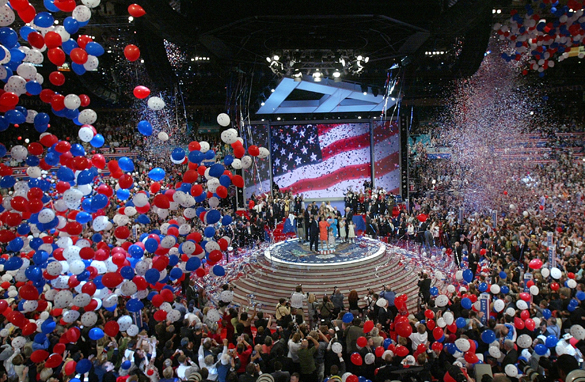 (PHOTO CREDIT: GETTY IMAGES)
FROM CNN's Jack Cafferty:
Republican Senator Norm Coleman of Minnesota says he wouldn't attend his party's own convention... if it weren't in his backyard.
Coleman was talking about his fellow senators who won't be going to the GOP convention. He says they're staying home "only because they have tough races". Coleman also faces a tough re-election bid this fall and probably should be concerned about tying himself to a damaged Republican brand as well. As one GOP congressman put it earlier this year: "the Republican brand is in the trash can... if we were dog food, they would take us off the shelf."
So far - several senators say they're skipping the festivities in St. Paul. They include Senators Pat Roberts of Kansas, Susan Collins of Maine, Gordon Smith of Oregon, Ted Stevens of Alaska and Elizabeth Dole of North Carolina. That's 5 sitting Senators out of 49 who will be no-shows.
And, the number of Republicans who want no part of the convention is actually even higher because three retiring GOP senators aren't going to attend and there are two others who haven't made up their minds yet.
One political analyst says during the conventions, those senators running for re-election won't be able to campaign anyway. He says the reason they're not going is they're afraid of being associated with party figures who are unpopular in their states - you know, like President Bush and Vice President Cheney.
Here's my question to you: What does it mean when more than 10% of Republican senators are refusing to attend their own convention?
Interested to know which ones made it on air?
Sandra from Cordell, Oklahoma writes:
It doesn't take a genius to figure that out, Jack. They don't like McCain any better than us Democrats do. The man is not competent to run this country.......even if we weren't fighting in two countries and having serious economic problems.
Rob from Honolulu, Hawaii writes:
Jack, I remember a Democratic presidential candidate that decided against President Clinton campaigning on his behalf! The Democrats are worse! They would distance themselves and throw loyal Democrats under the bus if they thought it would benefit them – remember Joe Lieberman! Just wait, in the near future the Democrats will go out of their way to distance themselves from Nancy Pelosi and Harry Reid!
Robert writes:
It means even party regulars are coming to realize that political conventions have become totally irrelevant. They are a waste of time, energy, and money that could be better used elsewhere, and is a graphic demonstration of the same fiscal irresponsibility these same people use back in Washington DC, which is why we're in such a mess already. You all are long since out of college. The frat party is history... get over it!
Theresa from Stone Ridge, New York writes:
It means that 90% have no scruples...
Marie from Toronto writes:
I used to take sleeping pills every night. Now I put on a DVD of John McCain giving a stump speech. It works equally well and doesn't cost me a penny. I can hardly blame anyone that makes an excuse not to attend this years RNC convention.
John writes:
It means that being an invertebrate has nothing to do with your political party.
Neil from Lake Forest CA writes:
I think they just don't want to be arrested in the Minneapolis/St. Paul airport for having a "wide stance."