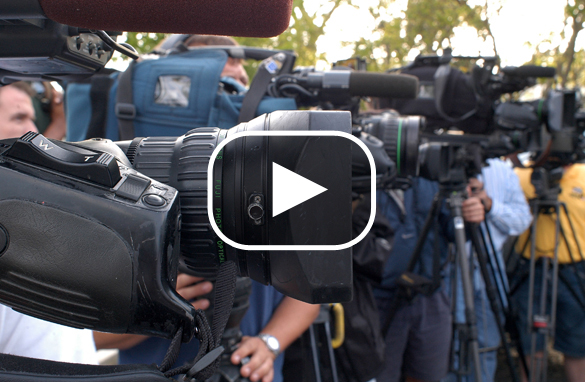 Click the play button to see what Jack and our viewers had to say. (PHOTO CREDIT: GETTY IMAGES)
FROM CNN's Jack Cafferty:
John McCain is whining about the media - again. His campaign manager, Rick Davis, wants to meet with the president of NBC News to protest the network's coverage... saying it's abandoning "non-partisan coverage" of the presidential race.
McCain's not happy with what NBC's Andrea Mitchell said on "Meet the Press" yesterday, when she questioned whether McCain may have known about some of the questions at the faith forum Saturday night ahead of time. John McCain was supposed to be held in a so-called "cone of silence" during Barack Obama's interview, which happened first. But it turns out McCain was in his motorcade on the way to Rick Warren's church during the interview.
Watch: Cafferty: Media objective?
McCain's campaign insists the Arizona Senator didn't hear the broadcast of the event in the car and didn't hear any questions. They say the insinuation from Obama's camp that McCain cheated is outrageous and they're going after Andrea Mitchell for "simply repeating Obama campaign talking points".
This isn't the first time McCain has been critical of the media's coverage of the race. The campaign recently put out a video spoofing how much the media love Obama.
A recent Pew Poll found 48% of those surveyed say they're hearing too much about Barack Obama, compared to 26% who feel the same way about John McCain. But, a media study that came out last month found that NBC, ABC, and CBS were tougher on Obama than they were on McCain during the first six weeks of the general election campaign.
Here's my question to you: How would you rate the objectivity of the news media in covering the presidential race?
Interested to know which ones made it on air?

Sandra from Texas writes:
It is very obvious to me the media is absolutely pro-McCain. After all, they are McCain's base. McCain does need to get more coverage. More coverage of his gaffes, his pandering, his past indiscretions, his flip-flops, his hypocrisy, etc. I believe he lifted that cross in the dirt story from Alexander Solzhenitsyn's "The Gulag Archipelago". Unlikely, they had the very same prisoner experience.
John from Santa Barbara, California writes:
This is a media that went GA-GA over Anna Nicole Smith. I don't expect anything approaching objectivity from the press on any subject. Everyone knows that McCain listened to the questions put to Obama while he was in his motorcade, and I think McCain should get a lot of media attention on that, let's call it Cone-gate.
Danny from Illinois writes:
The news media, by far, has favored Obama throughout the entire reporting of the candidates. The news media is an utter failure on giving equality to the reporting on the candidates. Obama has been the wonder child for the last year. I am amazed that this election is not a blow out for Obama with the type of reporting there has been. Just goes to show you the public is aware you can not trust the media and the citizens are making up their own minds about the right candidate.
Melissa writes:
Absolutely not. Obama gets more coverage. But it's twice as negative. The media seems to be afraid to tell the truth about a war hero. So with Obama we saw a month of Reverend Wright 24 hours a day, yet I still don't know what this rumored Keating 5 scandal in John McCain's closet is all about. I am one of those Americans that the Pew Center is talking about who wants to know more about John McCain, and not just all the glowing testimonies to his POW days.
Chryssa from Boise, Idaho writes:
McCain simply isn't as interesting, inspiring or newsworthy as Obama. That's life. You don't hear Lindsay Lohan complaining that Paris Hilton gets more magazine covers, do you?