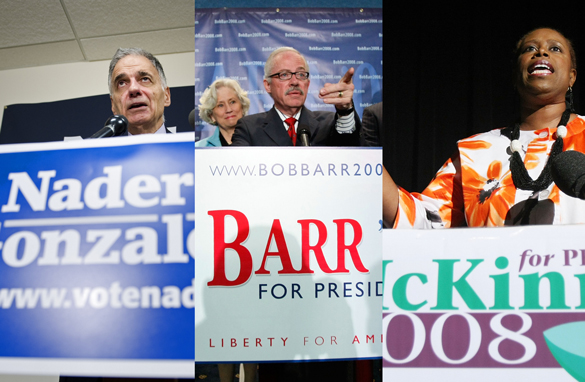 Third party presidential candidates: Ralph Nader (Independent Party), Bob Barr (Libertarian Party), Cynthia McKinney (Green Party). (PHOTO CREDIT: GETTY IMAGES)
FROM CNN's Jack Cafferty:
Americans are disgusted with our dysfunctional government, right? They overwhelmingly disapprove of Congress and the president, and for straight 6 months now, at least 80% of us say we're dissatisfied with where this country is headed.
So if the system is indeed broken, it seems like lots of Americans wouldn't want to vote for either the Democrat or the Republican in November. However, a new Gallup Poll finds that only 2% of registered voters name a third-party candidate when asked who they'll back for president.
2%... that's compared to 83% who name either Barack Obama or John McCain. The third-party candidates this time around include Bob Barr for the Libertarian Party, Independent Ralph Nader and Cynthia McKinney for the Green Party.
In 1992, Ross Perot got almost 20% of the vote, one of the best showings ever for a third-party candidate. In fact, Perot may have been the reason why Bill Clinton won the first time around. But, when it comes down to it, the way the two-party system is set up often makes it very difficult for third-party candidates to get any traction. It's an uphill battle to get on the ballot and to get the kind of money necessary to compete.
Here's my question to you: Why isn't there more support for third party candidates?
Interested to know which ones made it on air?

Collin writes:
It's because elections, like everything else in our government, are a racket. There may nominally be two major parties, but there is only one establishment that is devoted to welfare, war and power. Coupled with crippling ballot access laws and the impossibility of third party admission into televised debates, it is nearly impossible for any dissenting voices to be heard.
Omar from New York writes:
Jack, Actually it's you're fault. Well, the collective 'you', as in the media. You don't cover third party candidates. You don't inform us as to their positions…. When they get fair coverage, people will take note of them. As things are, it's a miracle that even 2% vote for them. For the record, I plan to vote for Ralph Nader.
Chad writes:
Give us a competent 3rd party candidate and we'll vote for them.
Marty from Green Bay, Wisconsin writes:
I am supporting a 3rd party candidate. Jack, Bob Barr is the clear choice to lead America. The only reason people continue to vote for one of the two parties is because most people don't take the time to find out what they really believe. They go along with the political wind, just like the politicians back in Washington.
Henry from New York writes:
The reason why is because the media do not pay attention to these third-party candidates. Because of this, the electorate does not know much about these candidates. Therefore, these candidates cannot raise money, which is the main source of running a successful campaign.
D. from Sebastopol, California writes:
Jack, The issues at stake here are far too serious to use the sacrifice bunt play. The sacrifice bunt - voting for the 3rd party candidate - advances the agenda of the candidate, but at the expense of the batter - and that is the American public. America really needs a home run right now.