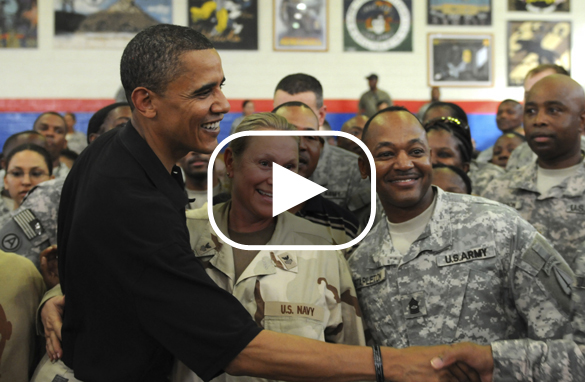 Click the play button to see what Jack and our viewers had to say. (PHOTO CREDIT: GETTY IMAGES)
FROM CNN's Jack Cafferty:
When it comes to the money race, it appears Barack Obama is ahead on the battlefield. Members of the military are donating more money to Obama than to the military man John McCain. A lot more money.
A nonpartisan organization called the "Center for Responsive Politics" reports U.S. troops serving abroad have given almost six times as much money to the Democrat Obama as they have to the Republican McCain.
Watch: Cafferty: Military $ for Obama?
These are pretty shocking results when you consider that historically military donations favor the Republican. Also, McCain is a decorated war hero who spent almost 5 years as a POW in Vietnam. He graduated from the U-S Naval Academy and was a naval aviator for 22 years. His military experience is a big part of his candidacy. Obama has never served a day in the military.
It might just mean that Obama's message of being against the war in Iraq is resonating with the people who have been called on to fight it. Obama says he would pull out all combat troops from Iraq within 16 months.
McCain has been a staunch supporter of the war and insists the U.S. will only withdraw troops when the conditions on the ground are right. At one point, McCain suggested the United States could be in Iraq for 100 years.
Here's my question to you: Why are members of the military donating more money to Barack Obama despite John McCain's military background?
Interested to know which ones made it on air?

Michael from Greenfield, Wisconsin writes:
As a Vietnam era ex-Marine veteran with a son who is in the Army and was wounded in Iraq in 2003, I would never give a penny to John McCain. I personally do not know any other veterans who are donating to McCain either. Jack, veterans hate war, wrong wars, and the people who talk so cavalierly about waging them. Usually those who never served during war, or never served at all, are the ones who talk so loosely about war. The veterans who I knew that liked war were either stupid, crazy, homicidal, or all of the above. Where does that leave McCain?
Ronald writes:
As a resident of Arizona and a combat veteran, I have had occasion to contact "our" senator on a matter of interest to veterans. Not only did his staff do nothing, they didn't even have the courtesy to acknowledge they received my emails (2). McCain can say he is "always there" for veterans, but that is just hot air. Contrary to what George Bush said, both he and McCain opposed the new GI bill.
Shana writes:
As an active duty sailor who has been in the Navy for the entire Bush administration, I am tired – sick and tired of fighting in a war I opposed from the beginning. I did donate to Obama's campaign because the U.S. needs change and not more of McBush. Who wants to spend 100 years in Iraq if need be? Not me. If McSame is elected, I would have spent my whole 20 years in the military in Iraq.
David from Tampa, Florida writes:
Jack, The reason is the lower ranks, guys with their butts on the line doing the dirty work, want to return home quickly. They will support that candidate who will extract them from harm's ways, they hope. Higher-ranking officers, who spend most of their time brown-nosing for their next promotion and are in the rear areas and pretty much out of harm's way, support those they believe will increase their lot in life. Respectfully a Vietnam era vet.