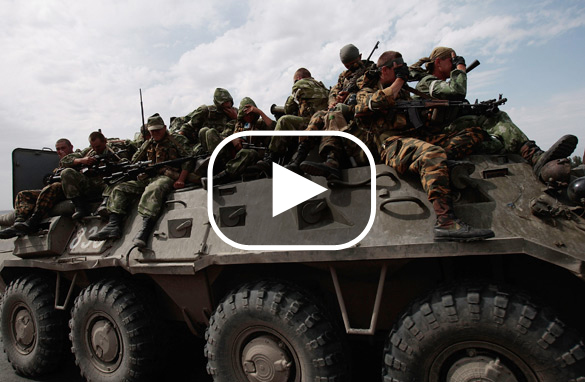 Click the play button to see what Jack and our viewers had to say. (PHOTO CREDIT: GETTY IMAGES)
FROM CNN's Jack Cafferty:
"In the 21st century, nations don't invade other nations."
So says John McCain, as part of his tough talk about Russia's attacks on Georgia. In calling for Russia to get out, McCain says he doesn't think we'll reignite the Cold War, but that you can't justify the "extent and degree" of Russia's intervention in Georgia. The presumptive Republican nominee insists that we need to make sure that in the 21st century, we all have respect for the sovereignty and independence of nations.
Watch: Cafferty: McCain a hypocrite?
Say what? The United States invaded the sovereign nation of Iraq more than 5 years ago. And you, Senator McCain, were all for the idea. You voted for the war, remember? At the time, McCain insisted that the U.S. needed to act before Saddam Hussein could develop more advanced weapons. And since then, McCain has remained steadfast in his support of arguably the biggest foreign policy blunder in the history of this country. At one point, McCain said U-S troops could remain in Iraq, a sovereign nation, for 100 years.
When it comes to punishing Russia for its actions, the Arizona Senator says its potential membership in the World Trade Organization should be reviewed along with its membership in the G-8. He believes an international peacekeeping mission should be sent to Georgia and that NATO should re-consider adding Georgia and Ukraine to the alliance.
Here's my question to you: Is John McCain hypocritical to condemn Russia for invading Georgia when he voted to invade Iraq?
Interested to know which ones made it on air?
Norm from Alabama writes:
Of course he is being hypocritical about this, just as he is about everything else. Example: all the pontificating about Obama being "presumptuous" and then McCain goes on TV to speak for America as though he were in fact its leader. Hypocrisy runs through his veins right along with nastiness and dishonesty.
Josh from Illinois writes:
Of course he is and I'm glad someone in the media is finally pointing that out! "In the 21st century, nations don't invade other nations?" Clearly Senator McCain needs more nap time.
Dave from Missouri writes:
Absolutely not! Iraq was controlled by a dictator and Georgia has a legally-elected president. The two should not even be considered in the same category.
Donna from Wisconsin writes:
Of course! Same with Bush telling Putin to back off. Excuse me? You wouldn't listen to anyone tell you to 'back off' Iraq! Our nation's image and credentials have been severely damaged by Bush, and McCain will only make it worse.
Stan writes:
Of course McCain is being hypocritical. He's a Republican after all. The Bushies lecturing the Russians on the sovereignty of nations is analogous to the weasel lecturing the fox on the rights of chickens.
James from Prescott, Michigan writes:
Absolutely! The Russians were only surging and continue their surge in McCain's surgeable tradition.
Vince from Carson City, Nevada writes:
Is the Pope...? Does a bear...? Duh.