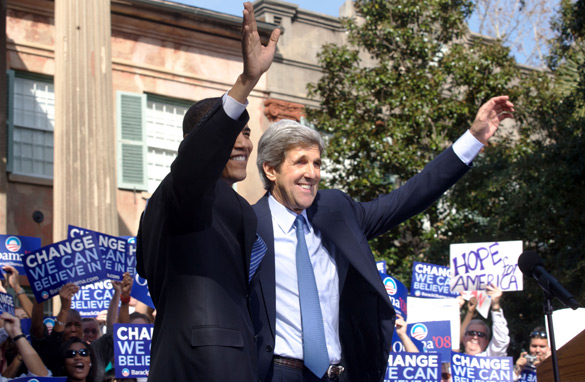 Author of swift boat book that attacked John Kerry in 2004 is now going after Barack Obama. (PHOTO CREDIT: GETTY IMAGES)
FROM CNN's Jack Cafferty:
Summertime and the swift boats are sailing.
The author of the book that attacked John Kerry's record on a Vietnam War Swift boat, and ultimately torpedoed his campaign, is now going after Barack Obama.
Jerome Corsi is out with "The Obama Nation", which will debut at number 1 on the New York Times best-seller list this Sunday. It portrays Obama as a radical liberal who's tried to cover up his connections to Islam. The book also questions whether Obama's drug use as a youngster ever ended. Real nice stuff.
Critics say that a lot of the book's accusations are unsubstantiated or just not true. Corsi has a record of putting out lots of wild theories in other books that call into question his credibility. And, Obama's campaign says the book is "nothing but a series of lies that were long ago discredited".
Nonetheless, political attack books – like "Unfit for Command" about John Kerry – have become a pretty effective tool in campaigns. The former Democratic presidential candidate was criticized for responding too late to the swift boat attacks.
This is why Kerry along with some of his former top aides say the Democrats have to fight back hard and quickly this time around. Kerry launched a web site yesterday questioning the claims in Corsi's book. And, his former chief strategist says Obama's campaign has to "debunk every single assertion" in the book, although he acknowledges it's a fine line to walk in not drawing too much attention to the book in the process.
Here's my question to you: Can the author of the swift boat book sink two Democrats in a row?
Interested to know which ones made it on air?

Deborah from North Port, Florida writes:
Absolutely he can. When we choose to be ignorant, it's easy to fool most of the people most of the time. Too many Americans can't think for themselves long enough to even try to discern the truth - and they don't care. If the truth really mattered, Rush Limbaugh wouldn't be making $400 million and Bush and Cheney would have long ago been impeached, removed from office, and deposited at The Hague. Truth? Please. It's a casualty of political war.
Mike writes:
Kerry's swift-boating demise was as much his fault as the swift-boaters. The guy couldn't give a straight answer to save his life, and was slow to pull up people who were there who could refute the swift-boaters' lies. Obama has a machine in place that can rapidly expose the liars for what they are this time.
Nick writes:
Jack, The success of the swift boaters was in a large way due to the lack of due diligence on the part of the media. Instead of doing any real investigative reporting and finding that the swift boaters were, in fact, fabricating their stories, the media took what they said as fact and waited for Kerry to defend himself. I would hope the media would take a more professional, responsible approach to this.
Kathy from Stamford, Connecticut writes:
They can sink another Democrat if voters remain as utterly naive and stupid as they did in 2004. There are still educated Americans out there saying they're not sure about Obama because "he's a Muslim or something." I mean these are the folks who gave us Dubya - TWICE!
Mickie from Philadelphia writes:
He doesn't have to. Hillary is doing a fine job of sinking the entire Democratic Party herself. The Democrats always seem able to snatch defeat from the jaws of victory.
Susan writes:
Kerry sunk himself by not fighting back. Obama will show this book for the fairy tale it is. This author has a hole in his boat and his head.