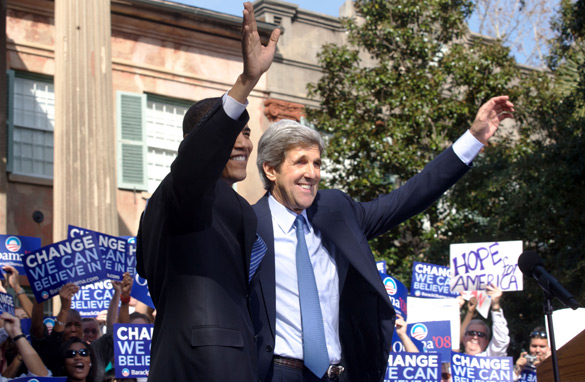 Author of swift boat book that attacked John Kerry in 2004 is now going after Barack Obama. (PHOTO CREDIT: GETTY IMAGES)
FROM CNN's Jack Cafferty:
Summertime and the swift boats are sailing.
The author of the book that attacked John Kerry's record on a Vietnam War Swift boat, and ultimately torpedoed his campaign, is now going after Barack Obama.
Jerome Corsi is out with "The Obama Nation", which will debut at number 1 on the New York Times best-seller list this Sunday. It portrays Obama as a radical liberal who's tried to cover up his connections to Islam. The book also questions whether Obama's drug use as a youngster ever ended. Real nice stuff.
Critics say that a lot of the book's accusations are unsubstantiated or just not true. Corsi has a record of putting out lots of wild theories in other books that call into question his credibility. And, Obama's campaign says the book is "nothing but a series of lies that were long ago discredited".
Nonetheless, political attack books – like "Unfit for Command" about John Kerry – have become a pretty effective tool in campaigns. The former Democratic presidential candidate was criticized for responding too late to the swift boat attacks.
This is why Kerry along with some of his former top aides say the Democrats have to fight back hard and quickly this time around. Kerry launched a web site yesterday questioning the claims in Corsi's book. And, his former chief strategist says Obama's campaign has to "debunk every single assertion" in the book, although he acknowledges it's a fine line to walk in not drawing too much attention to the book in the process.
Here's my question to you: Can the author of the swift boat book sink two Democrats in a row?
Interested to know which ones made it on air?