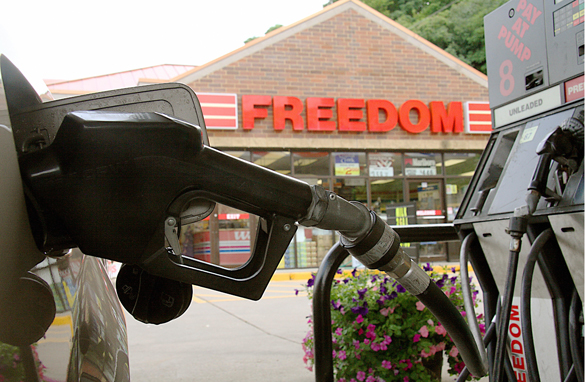 (PHOTO CREDIT: GETTY IMAGES)
FROM CNN's Jack Cafferty:
If you feel like you have some change left after filling up at the pump these days, it's not your imagination: Gas prices have now fallen for 26 days in a row.
AAA puts the national average at just below $3.80 a gallon. Gas prices have dropped more than 7% since hitting a record high of $4.12 last month. However prices are still a dollar more than they were a year ago. The almost month-long drop in gas prices has come as oil has also fallen from a record high of $147 a barrel.
This is good news for the average consumer. A new Gallup poll suggests that Americans have become more optimistic about gas prices as they continue to drop.
Last month, almost 90% of those surveyed said gas prices would be even higher by the end of the year. But now that percentage has dropped by more than half to 40% - an especially large change in opinion for just a month's time. Also, only 16% of Americans think gas prices will increase by "a lot" by the end of the year, compared to 52% who felt that way last month.
Gallup has also found that Americans' views about the economy haven't been quite as gloomy lately. 73% of Americans rate the current conditions as "fair" or "poor". That's still a lot of people, but it's down from 83% who felt that way last month.
Here's my question to you: Have 26 days in a row of falling gas prices improved your outlook?
Interested to know which ones made it on air?
Jenna from Roseville, California writes:
No. The falling gas prices are due to Americans reducing their demand because they can not afford the high prices. When Americans start to feel comfortable again and start to consume more, the prices will spike again.

Rob in Jacksonville, Florida
Now people can save some money when they have to drive to the unemployment office for their checks!
Norman from Maryland writes:
Why should it? We went back to sleep after the gas crisis in 1974. Sheer stupidity. Are we dumb enough to do it again?
Chris from Flemington, New Jersey writes:
No, the rising gas prices actually improved my outlook, because they would finally force our country to do the right thing and develop real alternatives. I'm looking forward to November 5th, when prices start going up again. $5 a gallon is music to my ears.
Hank from Orange, California writes:
Jack, Unlike all the cynics who have written in, I'd like to say yes, my outlook has improved somewhat. If gas prices continue to fall as they have for the past three weeks, I can get back to driving my H2 again...guilt free!
Derick from Greenlawn, New York writes:
Yeah, gas prices fell, but it's only because China took about a billion cars off the Beijing roads for the Olympics. Give it a week.
Fred writes:
Yeah, it thrills me to death to pay $3.85 per gallon versus $4.25.
Linda from Pennsylvania writes:
It's wonderful! What will I do with all that extra cash? Maybe I'll splurge and go buy a gallon of milk.