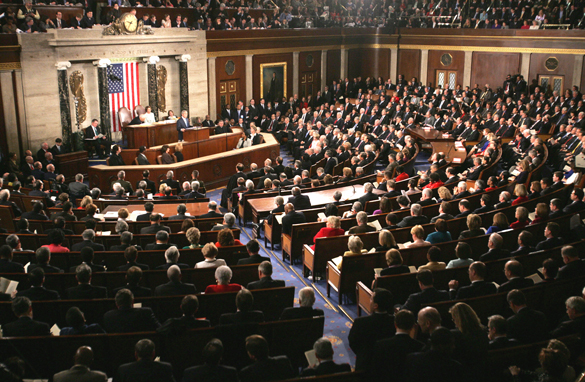 (PHOTO CREDIT: GETTY IMAGES)
FROM CNN's Jack Cafferty:
If Americans have finally had enough, and they should have, the current members of Congress are in a lot of trouble. Or are they?
The public already thinks Congress, which is now on vacation, is doing a pretty lousy job. And there's a new Gallup poll shows that only 36% of registered voters say most members deserve to be re-elected. That's among the lowest ratings ever in this poll. Gallup found similar ratings in only three other election years: 1992, 1994 and 2006. All three of these elections brought about big changes in the make-up of Congress, twice switching control from one party to another.
But here's the problem: although most people are disgusted with Congress, they often don't think their senator or congressman is part of the problem – which is why we end up with the same weasels down there for years and years. This Gallup survey shows that 57% of those polled say their own congressman deserves to be re-elected. How is that possible?
Nevertheless, 2008 could bring significant turnover in Congress, especially in an election where "change" has become an important theme. Even though Democrats control both houses of Congress now, there are signs that this will be a better year for Democrats than Republicans.
Want to know why we have the dysfunctional, corrupt government we have? 35% of those polled don't even know if their representative is a Democrat or a Republican.
Here's my question to you: Will you vote to re-elect your own senator or congressman?
Interested to know which ones made it on air?
Lenny from New York writes:
Jack, My congressman replaced an incumbent Republican in 2006; I intend to vote for him again. However, I think Americans have been too complacent in electing the people who are supposed to represent us, myself included. I have vowed to not let that happen again, I intend to be more involved in the political process and hope others do the same. If we watch the store, there will be less candy getting stolen.
Debbie from Kingsport, Tennessee writes:
Dear Mr. Cafferty, The congressional incumbents on my ballot will be solidly Republican and I am now staunchly Democratic. I will definitely be voting in November to remove these people from office. At this point, I'm ready to vote for the proverbial yellow dog rather than support a member of the Republican Party of George W. Bush and Dick Cheney.
Vincent writes:
You must be kidding! I got a phone call from my House representative two weeks ago. It was a conference call by him with random constituents. I was encouraged to ask a question. My question was why he and his fellow congressmen were always on recess and not doing the people's work. The conference call was terminated before my question came up. So I e-mailed him with the same question. Never got an answer. So I e-mailed again. Never got an answer. My congressman's name: Steny Hoyer, Majority Leader in the House of Representatives!
Jim writes:
I agree with you, but I like my congressman. I will vote to re-elect him because his votes in the House reflect my beliefs.
Dan from Pennsylvania writes:
Not on your life would I vote for any incumbent who served in the last eight years. I would consider myself a traitor to my country to reward the people responsible for this mess.
Tony from New Orleans writes:
Let's see: if you're a Republican, you have Senator David Vitter. If you're a Democrat, you have Congressman William Jefferson. Man, that's a tough one.