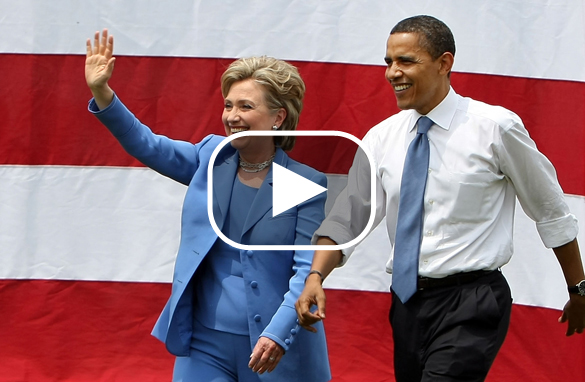 Click the play button to see what Jack and our viewers had to say. (PHOTO CREDIT: GETTY IMAGES)
FROM CNN's Jack Cafferty:
Hillary Clinton apparently hasn't gotten the message yet that it's over.
She's now trying to find a way for her delegates to be heard at the Convention, saying it will help unify the party. And, she hasn't ruled out having her name placed into nomination.
Clinton told supporters at a California fund-raiser last week that the party will come out stronger if people feel their voices were heard. She spoke of an "incredible pent up desire" on the part of her supporters, saying people want to feel like it's "a catharsis" and then they'll get behind Barack Obama. It's beginning to sound like group therapy.
Watch: Cafferty: Is Clinton over it?
Under DNC rules, Clinton would have to submit a request to have her name placed in nomination. She says no decisions have been made. But several groups of her supporters are planning marches and demonstrations in Denver, and collecting petition signatures to nominate her.
Time Magazine reports that while in public Clinton is doing everything she's been asked to help Obama, behind the scenes it's a different story. Associates say Clinton is still skeptical that Obama can win. And if he loses, that could set the stage for her to run again in 4 years.
And then there's Bill Clinton who continues to pout. Earlier this week he refused to tell an interviewer if he thought Obama was ready to be president, instead giving some lame excuse that "nobody is ever ready" and that the Constitution sets out qualifications for president.
Needless to say, none of this is helpful to Barack Obama. His campaign and Clinton's put out a joint statement saying that they're working together and the party
Here's my question to you: Do you think Hillary Clinton wants Barack Obama to win?
Interested to know which ones made it on air?
Gail from Woodstock, Illinois writes:
In reality, no. She is not a team player. I still worry about her and Bill turning this convention on its head. She wants to bring a vote to the convention floor using Florida and Michigan's full votes to topple the nomination of Barack Obama. If this scenario plays out, the Democratic Party will have a rift so large, we will never win another national election.
Carlo from Baker, Louisiana writes:
Truth is, Jack, we can't read her mind. All we can go on is what we see. I see a woman who created an army of monsters in her attempt to clinch the nomination, and her polarizing politics not only alienated Democrats, but has vitalized the GOP. They are using HER words against Obama as we speak. Perhaps she regrets some of the things her campaign did. However, the PUMAs and the other bitter supporters are like runaway trains, and I don't think even Hillary Clinton can press the brakes on them.
Ralph from New York writes:
No, Jack, but can you blame her? It is hard to sit on the sidelines or campaign for Obama, knowing she won at least half of the popular vote and so many elected delegates. Obama did not win the primaries by a blowout, and while she wants to be considered loyal to the Democrats, I am sure the Clintons would love to see a movement at the Democratic National Convention giving her the nomination.
Therese writes:
Jack, The Clintons are campaigning for themselves to win in 2012 and they will step over Senator Obama to get their victory. Shame on them both for putting their own ambitions above the party goals. They may think they have loyal supporters now, but if the Republicans win in November, many of us will hold the Clintons responsible.
Denise from Brooklyn, New York writes:
The only answer that comes to mind is that fact that you are desperate to create fodder where there is none. Thank you for taking a moment to expose yourself and your associates for the mud diggers that you are.