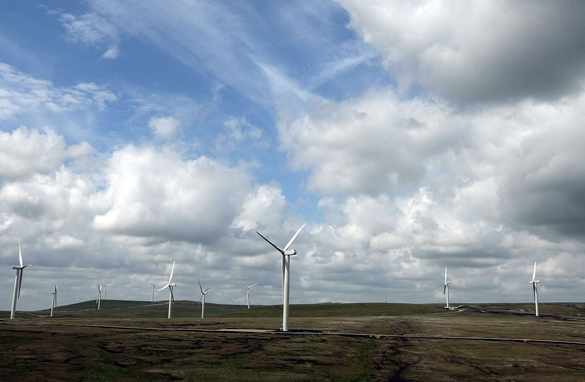 Obama and McCain outline energy plans to voters troubled by rising gas prices. (PHOTO CREDIT: GETTY IMAGES)
FROM CNN's Jack Cafferty:
With $4-a-gallon gasoline on the minds of many voters, Barack Obama and John McCain are tripping over each another to address energy issues.
It's something that touches almost every American, since higher gas prices inflate the cost of food, transportation, you name it. And, our dependence on foreign oil raises national security concerns. So what is the next president going to do about it? Both candidates have been laying out their plans and criticizing the other's proposals while they're at it.
The air is thick with lofty goals and promises. McCain: reduce carbon emissions 60 percent below 1990 levels by 2050 and spend $2 billion a year for 15 years for clean coal technology. McCain opposes a windfall profits tax on oil companies. And, in a change of positions, now favors offshore drilling. He wants to build new nuclear reactors and has proposed a $300 million award for a battery to advance hybrid and electric car technology.
Obama: get us off Middle East and Venezuelan oil within 10 years. Invest $150 billion dollars over 10 years – with billions more from the private sector – to build a new energy economy that would create 5 million jobs. Obama is calling on Americans to cut back on their use of electricity. Obama too now says he supports offshore drilling as part of a larger energy strategy, and would require 10% of our energy to come from renewable sources by the end of his first term.
Here's my question to you: How much faith do you have in Barack Obama or John McCain to solve our energy problems?
Interested to know which ones made it on air?

Bob from Boise, Idaho writes:
Neither one of them can solve America's energy problems. And it is not their job. It is ours. Sure, the politicians can implement programs, create incentives, and control legislation here and there, but the real solution is in the hands of each and every person in the U.S. If we don't change our attitude towards energy consumption, no amount of legislation will help. We will always find a way to consume more and we always have.
Dan from Chantilly, Virginia writes:
Like most of the major issues facing America, this election has turned into a battle of who will screw it up the least. McCain's energy plan doesn't make much sense and in some ways is overtly harmful. Obama's energy plan lacks details of how exactly he plans on doing what he claims he will do. So I guess Obama's plan is better by default, but anyone with a working brain should realize that neither of these guys is going to "fix" our energy problem. Especially not in 4 years.
Jean writes:
McCain gets my vote to solve the energy problem. His plan hits on multiple fronts, and more importantly, keeps all options on the table. As McCain has noted, the biggest issue to resolving energy is the partisanship in Congress.
Judy from Texas writes:
I have a lot more faith in Barack Obama to solve our energy crisis than I do John McCain. McCain has been in Washington for 26 years and hasn't seen fit to raise this issue. What we need is someone who has a vision and can move this country away from "Big Oil".
Kim from Dodge City, Kansas writes:
Neither one of these guys can change our dependency on foreign oil, or any oil for that matter. Congress runs on oil, just like everything else, and they are not about to let that gravy train come to a halt any time soon. They will tell you whatever you want to hear, but you can rest assured that as long as there is money in it, oil will be our economic heroin till the end of time.
Jenny from Rome, Georgia writes:
Jack, I honestly do not know. But, take heart: apparently Paris Hilton is available for consultations regarding her plan. So there is hope.