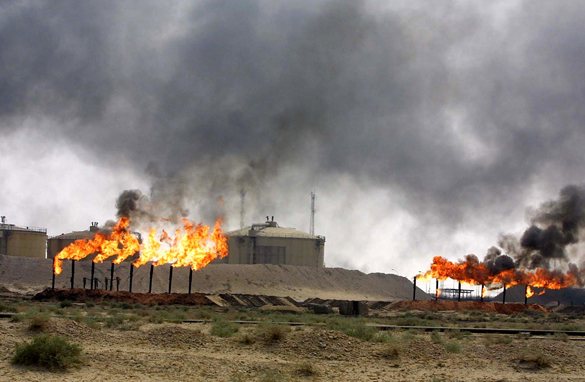 Oil burns at a refinery in Basra, Iraq. (PHOTO CREDIT: GETTY IMAGES)
FROM CNN's Jack Cafferty:
While you're paying $4 a gallon for gasoline, think about this.
Iraq could end up with an $80 billion surplus thanks to its oil exports. $80 billion. Remember how we were told Iraq's oil money would pay for the war? We've spent more than $700 billion of our money including almost $50 billion to rebuild Iraq, and we haven't seen a dime of their oil money for our efforts.
U.S. auditors report that Baghdad had a $29 billion budget surplus from 2005 to 2007, and with the price of crude oil just about doubling in the last year, the surplus for 2008 is expected to hit as much as $50 billion.
Meanwhile, the U.S. continues to pour money into Iraq for reconstruction, repairs to their oil infrastructure, electricity, water and security. How much has Iraq spent? In the last 3 years, they've put less than $4 billion towards similar services.
Senator Carl Levin says it's inexcusable for U.S. taxpayers to foot the bill for projects the Iraqis could pay for themselves. Duh.
Of course Congress continues to approve one spending bill after another for Bush's war despite the Democrats' promise to end the war's funding in 2006.
Here's the bureaucratic explanation for the screwing the American taxpayer is getting. The Treasury Department says the U.S. is working with Iraqis to fix the issue and they believe "progress is being made". What a joke. Progress is Iraq writes the United States a check.
Here's my question to you: What should be done about Iraq's potential $80 billion oil surplus?
Interested to know which ones made it on air?
Mark from Arizona writes:
Jack they should spend the $80 billion on no-bid contracts to rebuild America. All of our bridges are in disrepair and ready to fall down. Maybe it would help promote democracy in the U.S.!
Ibrahim writes:
Uhh...Keyword: Reconstruction. America bombed Iraq to hell, killing hundreds of thousands of its people. Now America needs to assume the costs. I'm opposed to using Iraqi money to repair damage America has done. If anything, Americans should consider this as reason not to be so enthusiastic about starting wars in the future.
Jay from Park City, Utah writes:
I remember when we had a surplus. We couldn't decide what to do with it either. Eventually, Mr. Bush found a great cause. Let's have a war and spend it there.
Paul writes:
Jack, We cannot touch that money! As soon as we do, we have proven every extremist Muslim correct: we were only in Iraq for the oil. We went in and destroyed their county and asking them to pay for it would do more for jihadist sentiments than all our years of support of Israel combined!
Jay from Brownwood, Texas writes:
We should demand at least $40 billion of that money be repaid to American taxpayers in the form of free gasoline for every American with a driver's license.
Donna from Myrtle Beach, S.C. writes:
Let's make them our 51st state. Then the Bush regime can rob them like they have the rest of us.
Brian from Woodland Hills, California writes:
Match their surplus as a gift for damaging their country, killing women and children and hope they will forgive us.
Rick writes:
Take half of it, buy every American a tire gauge, and presto, we have energy independence.