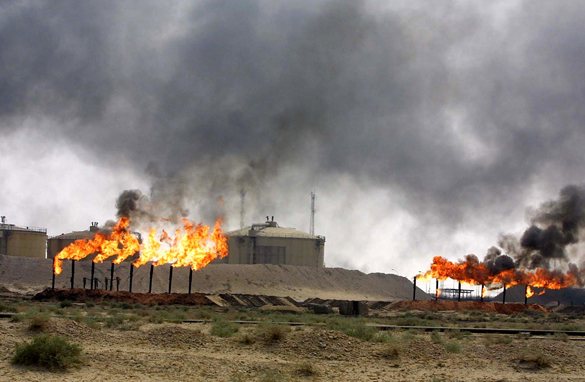 Oil burns at a refinery in Basra, Iraq. (PHOTO CREDIT: GETTY IMAGES)
FROM CNN's Jack Cafferty:
While you're paying $4 a gallon for gasoline, think about this.
Iraq could end up with an $80 billion surplus thanks to its oil exports. $80 billion. Remember how we were told Iraq's oil money would pay for the war? We've spent more than $700 billion of our money including almost $50 billion to rebuild Iraq, and we haven't seen a dime of their oil money for our efforts.
U.S. auditors report that Baghdad had a $29 billion budget surplus from 2005 to 2007, and with the price of crude oil just about doubling in the last year, the surplus for 2008 is expected to hit as much as $50 billion.
Meanwhile, the U.S. continues to pour money into Iraq for reconstruction, repairs to their oil infrastructure, electricity, water and security. How much has Iraq spent? In the last 3 years, they've put less than $4 billion towards similar services.
Senator Carl Levin says it's inexcusable for U.S. taxpayers to foot the bill for projects the Iraqis could pay for themselves. Duh.
Of course Congress continues to approve one spending bill after another for Bush's war despite the Democrats' promise to end the war's funding in 2006.
Here's the bureaucratic explanation for the screwing the American taxpayer is getting. The Treasury Department says the U.S. is working with Iraqis to fix the issue and they believe "progress is being made". What a joke. Progress is Iraq writes the United States a check.
Here's my question to you: What should be done about Iraq's potential $80 billion oil surplus?
Interested to know which ones made it on air?