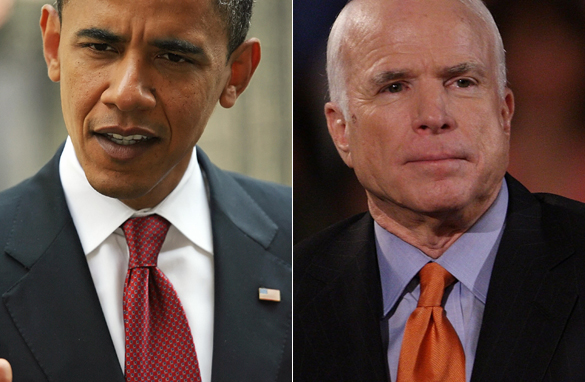 (PHOTO CREDIT: GETTY IMAGES)
FROM CNN's Jack Cafferty:
Barack Obama has a new ad out that tries to tap into Americans' anger over rising gasoline prices. Obama's target is John McCain.
The ad says:
"Every time you fill your tank, the oil companies fill their pockets. Now big oil's filling John McCain's campaign with $2 million in contributions because instead of taxing their windfall profits to help drivers, McCain wants to give them another $4 billion in tax breaks. After one president in the pocket of big oil, we can't afford another."
Factcheck.org says the actual number is $1.3 million, not $2 million, and the claims about tax breaks for big oil are a little fuzzy.
The fact is both Obama and McCain have flip-flopped on the issue of offshore drilling. And both men have been quarreling rather childishly about which one wants to solve America's energy problems more. Obama points out that for 26 of the 30 years it took for America to develop its addiction to foreign oil, John McCain was a part of the Washington establishment that looked the other way and allowed it to happen.
McCain's camp says Obama's ad is misleading, that it doesn't mention the $400,000 Obama got from employees of oil companies. And they say McCain voted against a 2005 bill that provided billions in tax breaks for energy producers. Obama voted for it.
Voters have to remember that politicians will say anything in order to be elected. Whether this latest blustering amounts to any more than a big political wind remains to be seen.
Here's my question to you: As president, which candidate would be more sympathetic
to the big oil companies: John McCain or Barack Obama?
Interested to know which ones made it on air?
David writes:
Even if McCain did want to distance himself from the present administration, they are handcuffed to the oil and gas industry. I live in Houston, have worked with "big oil" and will tell you that they have celebrated every single day of the present Republican administration. There is no way McCain will escape that political gridlock.
Rhonda from Detroit writes:
Both McCain and Obama will take as many contributions as they can get from big oil. It is becoming funny to watch which one of them can out-centrist the other. McCain opposed offshore drilling before he supported it, and now Obama has assumed the same position. Yesterday Obama talking in Michigan about energy, and today McCain came to Michigan to talk about energy. I don't think either of them has a plan that goes any further than the November election.
Mike from New Prague, Minnesota writes:
Obviously Obama. God made oil and Barack is Moses. Or the messiah. Or the anti-Christ, I forget which one.
John writes:
I declare a tie! Big oil and big coal have both ruled over the podium in this election. In the end, offshore oil and "clean coal" will win the election, thanks to equal lobbying by both candidates. Thanks for the change, guys!
Gary writes:
It's absolutely John "drill here, drill now" McCain! I can't believe that the GOP is getting mileage out of the August Congressional recess. It's been 30 years of inaction and now we are led to believe that we'll have an answer in 5 weeks. How stupid do they think we are?
John writes:
Which candidate will be beholden to the oil companies? Why, the one who gets elected.
Karl from California writes:
Jack, This question is right up there with: Who is more likely to be Catholic? The Pope or Osama bin Laden?