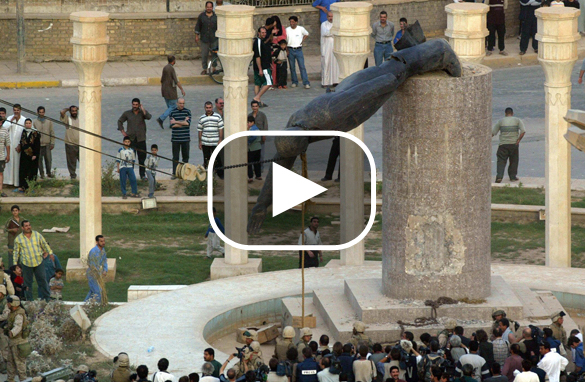 Click the play button to see what Jack and our viewers had to say.(PHOTO CREDIT: GETTY IMAGES)
FROM CNN's Jack Cafferty:
A new book says President Bush committed an impeachable offense, ordering the CIA to forge a letter to bolster his case for war in Iraq.
These explosive charges are contained in a new book, "The Way of the World" by Pulitzer Prize-winning journalist Ron Suskind. He says he spoke on the record with U.S. intelligence officials who said that President Bush was informed in January 2003 that Saddam Hussein did not have weapons of mass destruction. The president's response to this information was reportedly "F- it. We're going in." Three months later, the U.S. invaded Iraq using a forged document as its rationale, according to Suskind.
He writes that the White House called on the CIA to concoct the forged letter from the head of Iraqi intelligence to Saddam Hussein. It was backdated to before 9/11 and indicated that one of the hijackers, Mohammed Atta, had trained for his mission in Iraq, according to Suskind. The phony letter, he writes, was designed to prove a non existent link between Hussein and al Qaeda.
Watch: Cafferty: W.H. forged letter?
Meanwhile, that head of Iraqi intelligence, who told British intelligence sources that Iraq had no active nuclear, chemical or biological weapons and no WMD was "resettled" in Jordan with the CIA's help and paid $5 million in hush money, Suskind writes.
Suskind calls Mr. Bush's actions "one of the greatest lies in modern American political history" and suggests they constitute a crime worse than Watergate.
The White House is pushing back hard, calling Suskind's claims "absurd" and describing his work as "gutter journalism" including "wild allegations that no one can verify." Former CIA director George Tenet ridicules the credibility of Suskind's sources and calls the White House directive to forge a letter "a complete fabrication."
Here's my question to you: What does it mean if the White House ordered the CIA to forge a letter in order to bolster its case for war in Iraq?
Interested to know which ones made it on air?