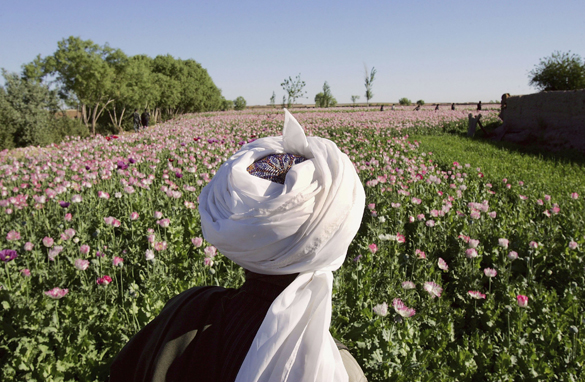 Afghan farmers say that they depend on the cash they earn from poppy, which provides ten times what they could earn from growing legal crops. (PHOTO CREDIT: GETTY IMAGES)
FROM CNN's Jack Cafferty:
"Afghanistan is in misery." That's the assessment of retired four-star Army General Barry McCaffrey. He just spent a week visiting NATO Headquarters and Afghanistan... and reports back on a truly dismal state of affairs.
Almost 70% of Afghanistan's people have never known peace. The life expectancy is only 44 years and the country has the second highest maternal mortality rate in the world: 1 in 6 pregnant Afghan women dies for every birth.
Terrorist attacks and insurgent violence are on the rise, with more casualties now in Afghanistan than Iraq. The government is mostly dysfunctional and corrupt. Unemployment is at 40% and rising. Although an overwhelming majority of the Afghan people rejects the Taliban, they have little faith in the government to provide basic services and security.
General McCaffrey insists we can not win this war solely with military might. He stresses the need for a larger Afghan army and police force in addition to more U.S. troops. He believes we also need to help fix the Afghan agricultural system, and that the international community must demand the end of the drug crops.
Here's the key: McCaffrey calls Afghanistan a "narco-state". The Taliban, Al Qaeda and war lords are mostly funded by an estimated $800 million a year coming from the $4 billion opium and cannabis industry. These crops are up sharply in recent years – with the industry employing more than 3 million workers, addicting hundreds of thousands of Afghans and providing the money necessary to corrupt the government and the justice system.
Here's my question to you: What should be done to save Afghanistan?
Interested to know which ones made it on air?
Alexander writes:
Afghanistan supported 9/11 and shielded the criminal Osama. That is why we invaded. They have been punished enough. We should just leave. The next time some nation contemplates terrorism, they may be deterred by the misery that Afghanistan brought upon itself. Mission accomplished.
Nick writes:
Instead of sending soldiers to fight the insurgency, we need to pull U.S. troops out and let our humanitarian organizations have the exact same budget the military has had. That should get Afghanistan back on its feet.
Ryan writes:
We should do nothing to "save" Afghanistan. America has been too busy the last 50 years trying to save the world, and it has brought us more enemies than ever before. Bring the troops home from Afghanistan and Iraq and everywhere else they may be in the Middle East, then thousands of American lives and billions of dollars of American treasure will be saved.
Rasmus from Denmark writes:
The foremost priority should be to disable the heroin industry. It finances terrorism, a lot of it being shipped to the U.S. and corrupting much of the population. Also, the goodwill of the people is very important for victory. Without support from the people, victory is impossible. So there must be steps taken to change the negative view of the western world.
Susan writes:
We should pull out of that region completely. There will never be peace there unless those who live there are willing to stand up to the thugs. We need to clean up our own backyard here.
Larry from Florida writes:
It may be too late, Jack. Afghanistan is where we needed to be instead of Iraq. It was a mess there to start with but it's way past a mess now. We have to go there and we have to do it with great force. One problem. We have no great force any more.
Henk writes:
Jack, There is only one hope for Afghanistan: We need to invade Iran.