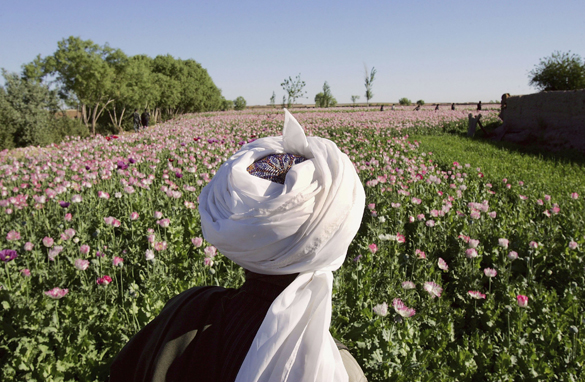 Afghan farmers say that they depend on the cash they earn from poppy, which provides ten times what they could earn from growing legal crops. (PHOTO CREDIT: GETTY IMAGES)
FROM CNN's Jack Cafferty:
"Afghanistan is in misery." That's the assessment of retired four-star Army General Barry McCaffrey. He just spent a week visiting NATO Headquarters and Afghanistan... and reports back on a truly dismal state of affairs.
Almost 70% of Afghanistan's people have never known peace. The life expectancy is only 44 years and the country has the second highest maternal mortality rate in the world: 1 in 6 pregnant Afghan women dies for every birth.
Terrorist attacks and insurgent violence are on the rise, with more casualties now in Afghanistan than Iraq. The government is mostly dysfunctional and corrupt. Unemployment is at 40% and rising. Although an overwhelming majority of the Afghan people rejects the Taliban, they have little faith in the government to provide basic services and security.
General McCaffrey insists we can not win this war solely with military might. He stresses the need for a larger Afghan army and police force in addition to more U.S. troops. He believes we also need to help fix the Afghan agricultural system, and that the international community must demand the end of the drug crops.
Here's the key: McCaffrey calls Afghanistan a "narco-state". The Taliban, Al Qaeda and war lords are mostly funded by an estimated $800 million a year coming from the $4 billion opium and cannabis industry. These crops are up sharply in recent years – with the industry employing more than 3 million workers, addicting hundreds of thousands of Afghans and providing the money necessary to corrupt the government and the justice system.
Here's my question to you: What should be done to save Afghanistan?
Interested to know which ones made it on air?