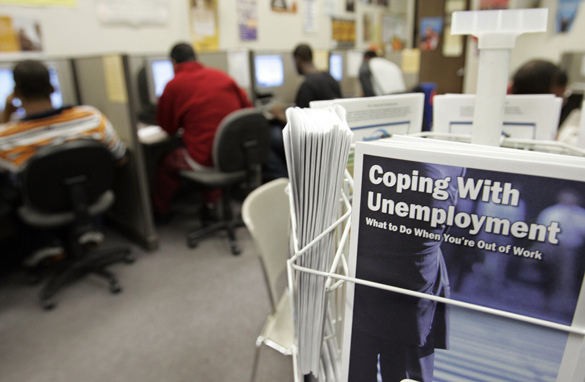 The Labor Department reported that the unemployment rate for July has risen to 5.7%. (PHOTO CREDIT: GETTY IMAGES)
FROM CNN's Jack Cafferty:
More bad news about the economy as the nation's unemployment rate rose to a 4-year high of 5.7% percent last month.
Employers cut another 51,000 jobs in July, making it the 7th straight month of declines. The Labor Department reports that 463,000 jobs have been lost this year.
And, this doesn't even tell the whole story, because the unemployment rate doesn't include those who have become discouraged looking for a job or those who took part-time work when they really want to be working full-time. If you count the unemployed and underemployed, the rate jumps to 10.3%. Another troubling sign is it's taking the unemployed longer to find new jobs. Some of the hardest-hit industries include those affected most by the housing, credit and financial crises – like construction and manufacturing.
It comes as no surprise then that a new CNN/Opinion Research Corporation poll shows Americans are downright disgusted with where this country is headed... only 24% think we're on the right track. That's the lowest number since 1980. Only four presidents have seen this number drop below 30% while in office – Richard Nixon, Gerald Ford, Jimmy Carter and the first President Bush. In each case, their party lost the White House in the next election.
Not exactly a good sign for John McCain and the Republicans.
Here's my question to you: What will the country's sour mood mean for the election?
Interested to know which ones made it on air?
Barry writes:
Well, Jack, you chose the right word: sour. I'm sick of being taken for a fool by our elected leaders. Bush stands in the Rose Garden with his matching rose-colored glasses and tells us the economy is strong, we're winning the war on terror and it's those pesky Democrats, who have been out of power for eight years, who caused all these problems as well as our high gas prices. John McCain has now borrowed Bush's glasses, policies and tactics as he attacks Obama for being popular, intelligent, good looking and hopeful.
Angelena from Albany, New York writes:
I see two scenarios: either there is a huge election turnout or everyone just stays home. We're tired of fighting, Jack. Democrats are idiots, Republicans are idiots. I thought this was a democracy. Who's going to be the voice of the people? Everybody has ulterior motives… it's pathetic.
Frank writes:
Jack, What it means is I won't be voting for Obama. Why on God's green earth would I vote for someone who will raise my taxes, and not allow us to drill for much-needed oil? Obama's recipe for America would put us in a downspin.
Brian writes:
The country's sour mood will make people remember the fact the country would not be like this had a Democrat been in office the past eight years. Therefore, people will finally understand that electing another Republican in these hard times would be the worst possible thing to do. I'll see you on inauguration day, President Obama!
Steve from Tennessee writes:
It means whoever wins better hit the ground running.
Yolande writes:
We will throw our hands up in the air again, and say, "Here is another idiot for the next 4 to 8 years."
Sarge from Indianapolis writes:
It means that "We the People" are opening up the doors to that stinking barn and cleaning it out. And the smell is going to be foul.