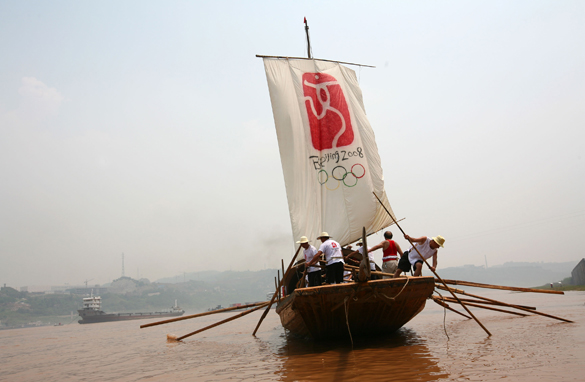 Boatmen sail a replica of an ancient wooden ship on the Yangtze River to mark the upcoming 2008 Beijing Olympic Games.(PHOTO CREDIT: GETTY IMAGES)
FROM CNN's Jack Cafferty:
How would you like to attend the Olympics starting next week in Beijing? Before you answer, consider the following:
Foreign-owned hotels are being forced by the Communist Chinese government to install software that can spy on hotel guests. Republican Senator Sam Brownback got a hold of a government document calling on all hotels to use the spyware. If they don't agree to monitor their guests' web history, searches, etc., the hotels could face "severe retaliation" – including financial penalties, losing Internet access or losing their license to operate a hotel in China.
There are reports that 22 Chinese gold medalists have been purged from the team, some of them allegedly for "political" reasons.
Ten days ahead of the start of the games, Amnesty International is out with a report that says the human rights situation in China has gotten progressively worse. They claim China is using the Olympics as an excuse to crack down on dissents.
Amnesty says the government has locked up activists, kicked people out of their homes, required some demonstrators to report to the police every week, and detained journalists and bloggers. There is a report today that the Chinese government will block access to certain sites on the Internet as well. Amnesty also says the use of so-called "re-education through labor" camps and beatings in prison have increased.
China says the Amnesty report is unfair and biased.
No banners or whistles will be allowed. No flags of non-participating countries can be displayed. No gambling. No sit ins or demonstrations, no soft drink containers, musical instruments, cameras or radios. No drunkenness or streaking. And dog meat has been ordered removed from all official Olympic restaurants. You can still get a Fido burger, though, at those quaint little out-of-the-way places. And don't forget your gas mask, the air can be pretty foul.
Here's my question to you: If you had the chance, would you want to go to the Olympics in Beijing?
Interested to know which ones made it on air?

George writes:
Not on my best day would I want to go to the country that oppresses its people like China does, and I would not spend one red cent there to prop up their economy. We think we have it bad in America until we get a good eye's view of how the people of that nation are treated. At least we are going to be able to work our way out of our mess, but the Chinese people haven't a prayer. For Bush to attend is a slap in the face of freedom.
Steve writes:
Jack, I have personally been to Beijing, and several other cities in China. I have also been to 1996 Atlanta Olympics. While the social and environmental situations in China are reprehensible, the Olympics will always be a special, spectacular event, worth watching no matter what problems are facing the world. Yes, I would go to the Beijing Olympics.
Karl from California writes:
Never. My lungs could probably take it, but my conscience couldn't. Their sadistic dictatorial government should never have been blessed by the IOC with this event. Any country that can't welcome worldwide tourism without oppressive restrictions isn't worth acknowledging.
Hugh from New York writes:
No dog meat! No streaking! No way!
Bobby writes:
Yes, definitely. I was in Beijing in March (before the pollution controls were implemented), and I've got to say that the whole pollution issue has been blown way out of proportion. It's really not as bad as what the media makes it out to be. In regards to human rights issues, I simply wouldn't do anything that might make me a target of the Chinese government.
Tracey writes:
Hmmmmm, sounds like a homeowners association, to me.
Eileen writes:
No. Sounds like it's being run by Dick Cheney and the Republican Party.
Bob from Toronto writes:
I'd sooner go to Baghdad.