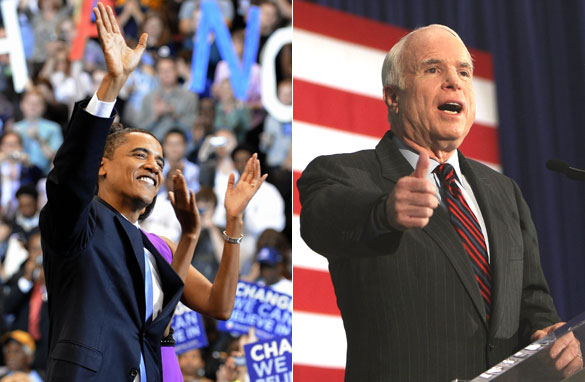 (PHOTO CREDIT: GETTY IMAGES)
FROM CNN's Jack Cafferty:
The 2008 presidential campaign has been a telethon without a disease. In fact, it will be the longest in American history.
First, the public was subjected to that 16-month long primary season, which included months of the Clinton-Obama drama. And that was just the warm-up act.
It's only July. Now were bombarded daily with non-stop coverage of the Obama-McCain throwdown, the daily back and forth, tit-for-tat between the two campaigns.
These candidates have been in the game for quite some time now, when you consider Barack Obama has almost been running for 2 years, since saying in October of 2006 that he was considering a run for president. John McCain might be at it even longer, dating back to his embrace of President Bush in the 2004 campaign.
And it's only going to get worse. Next up come the vice presidential picks, followed by the conventions. Then after Labor Day, get ready for the really heated campaigning. There will be debates, and town hall meetings and staged events for the TV cameras. It will make your teeth hurt. Not to mention all the campaigns for congressional and Senate seats.
In late September, some voters can start casting absentee ballots. And don't think both candidates won't have their eyes on these people, which experts say could total as many as one-third of all voters.
Ever more intensive news coverage won't be the half of it. Brace for onslaughts of television ads, direct mailings, phone calls asking for your money and your votes. It will be positively suffocating.
The next 100 days or so will be a political version of "waterboarding."
Here's my question to you: Are you "politicked out" yet?
Interested to know which ones made it on air?
James writes:
I can't take it anymore. Don't get me wrong, I can't wait for Election Day but I can barely stand to look at polls and websites and have stopped watching election coverage all together. I'm extremely excited about this election but just wake me up on November 6th. I've had enough.
Billy from Las Vegas writes:
I wish we had the British system where campaigning only lasts 5 to 8 weeks ahead of an election and there are laws banning most TV and radio ads. As a matter of fact, I wish we had their parliamentary system because if you end up with a complete fool in power, it's easier to get rid of them. I doubt a "Prime Minister Bush" government would have survived 30 days after 9-11 and definitely would have been voted out after Katrina.
Brian from Moscow, Idaho writes:
Jack, No way. I'm addicted, just like you are. You sound like a grouchy old guy most of the time, but then again you picked a job where you are paid to complain three times a day on television about politics! All I know is that you and I might have to become drinking buddies after the election – we're going to be dealing with some serious political withdrawal.
Steve from Jacksonville, Fla. writes:
I'll be glad when the whole thing moves over to the History Channel.
Linda from Atlanta writes:
I am not politicked out! I am in it for the long haul. To me, the stakes have never been higher and it is incumbent upon every American who wants a better future to fully engage and stay engaged until the last vote is counted!
Saroop writes:
Aside from sports, there's nothing else on TV. Politics has to keep me going until the new season of Lost begins.
Robert from New York
Hey, Jack. Even if we were, would you all stop shoving it down our collective throat?