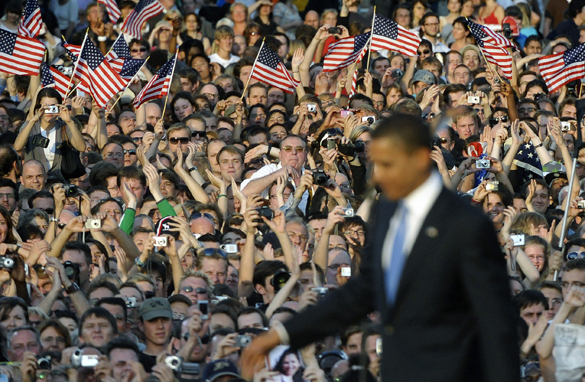 (PHOTO CREDIT: GETTY IMAGES)
FROM CNN's Jack Cafferty:
It's a mystery to many: why isn't Barack Obama farther ahead in the polls?
CNN's poll of polls shows Obama up by 5 points, leading John McCain 45% to 40%. In most polls, he rarely breaks 50%. A new USA Today/Gallup Poll actually shows McCain leading Obama 49% to 45% percent among likely voters.
It seems like Obama should be miles ahead of McCain when you consider the political climate. Americans can no longer stand President Bush, or the Republican Party, or the war in Iraq. And of course there's the economy. Also, Obama has run a pretty flawless campaign – highlighted by that hugely successful trip overseas last week. John McCain, on the other hand spent last week making one mistake after another.
One Democratic pollster tells the New York Times that Obama still faces many obstacles. He's young, African-American, relatively inexperienced and has a background that not many Americans can relate to.
Also, his rival, John McCain, has a history of appealing to independent voters, which is part of the reason why his supporters argued during the primaries that he was the strongest general election candidate.
Robert Novak writes in his column that Obama's difficulty reaching the 50% mark is due to an "overwhelmingly white" undecided vote of 10% to 15%. It's left some Republicans speculating whether McCain might be able to "back into" the presidency much like he did his party's nomination. This is despite the fact that even Novak describes McCain as "wooden" and acknowledges "not even Bob Dole's dismal candidacy in 1996 generated less enthusiasm in GOP ranks than McCain's current effort".
Here's my question to you: Why isn't Barack Obama doing better in the polls?
Interested to know which ones made it on air?

Robert writes:
Because the press jumps on every possible negative thing they can about Obama, but ignores many of McCain's numerous gaffes and flip-flops… Don't take my word for it, read the study documented by the LA Times. 72% of evening news statements about Obama are negative as compared to 57% negative for McCain. When you level the playing field, Obama will pull ahead.
Lyndsey from Indiana writes:
I'd like to see a poll of first-time voters and see just how far ahead in the polls he would be then. The fact is, these polls just don't reach young and/or first-time voters like me, who from what I've seen are heavily in favor of Obama.
Gary from Alaska writes:
Jack, This country is not ready for a black president. Guess this isn't politically correct to say but I think it's true. Just wait until the Obama supporters get into that private, concealed voting booth.
Will from Maryland writes:
Come on, Jack. This is a country that re-elected Bush. Think about it.
Bill writes:
Polls are computed by who answers the phone. Most Americans who will try to vote for Obama are working the second job. Or they are screening their calls, trying to duck the bank that wants to foreclose the house, collect on the credit cards they've maxed-out to pay for the gas that they need to get to the job whose wages don't pay the bills anymore. Or they've had the phone turned off.
Leo from Florida writes:
Because it's the summer and nobody is paying attention.
Rufus from Twentynine Palms, California writes:
It's very simple, Jack. Contrary to General Patton's assertion that Americans like a winner, the verifiable, object truth confirms that Americans actually like underdogs. Barack Obama is a winner...he's young, vivacious, and he can shoot the basketball from downtown, a true Dream Teamer. John McCain, on the other hand, is a loser...he's old, stodgy, and 99% scar tissue. Johnny-Mac is the 1962 New York Mets. Just wait, now that John McCain has a new band-aid, expect to see his poll numbers go through the roof.