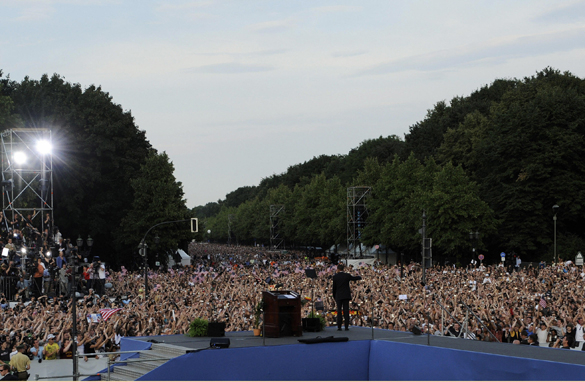 Sen. Barack Obama delivering a speech to thousands in front of Victory Column in Berlin, Germany. (PHOTO CREDIT: GETTY IMAGES)
FROM CNN's Jack Cafferty:
Barack Obama's overseas trip was almost flawless. It's the first time in eight years an American politician was greeted so enthusiastically overseas. We saw foreign citizens waving American flags instead of burning them or having the host country's military holding back angry protesters.
And, while Obama was away shoring up his foreign policy credentials overseas, it seems the trip turned out to be devastating for John McCain. He spent the week stumbling around the U.S. making gaffes about foreign policy, which is supposed to be his strong suit.
We heard McCain refer to the nonexistent "Iraq-Pakistan border," he got his timing wrong on the surge and the Sunni awakening against Al Qaeda, he called Iraq "the first major conflict since 9-11." I guess Afghanistan doesn't count. And, are you ready? McCain acknowledged that 16 months for a U.S. troop withdrawal from Iraq is quote "a pretty good timetable." Go figure. And of course it's ironic that it was John McCain who kept urging Barack Obama to go overseas in the first place.
Obama did take some heat for canceling plans to visit wounded troops at a U.S. base in Germany. He probably should have gone.
Nonetheless, the polls are reflecting just how good a week it was for Barack Obama. CNN's Poll of Polls now shows Obama leading McCain by 6 points, 45 to 39 percent. And the Gallup daily tracking poll shows Obama jumping ahead of McCain by 9 points.
Here's my question to you: Did Barack Obama's overseas trip change your opinion of him?
Interested to know which ones made it on air?

Jason from Koloa, Hawaii writes:
No, I've liked him from the time I heard him speak at the last Democratic National Convention. He is the new voice of America, one that we've all been yearning to hear for a long time.
Danielle from Dallas writes:
No, Jack. It changed my opinion of John McCain.
Nathan writes:
Obama's trip overseas doesn't make him an expert in foreign affairs any more than a trip to the aquarium makes me a marine biologist. Obama's arrogance is about the only thing that voters know about this "presumptuous" Democratic nominee and that arrogance was on full display in this ridiculous media stunt. Interesting how the media has lost its objectivity.
Tim from Brandon, Florida writes:
I am Republican who because of this trip has decided that Obama is the best candidate for president. His youth and ability to be able to use modern technology (like the Internet and email) shows that he is ready for what the future holds. I have not yet donated but I will on the first day after I take out my money for gas.
David from Jersey City, New Jersey writes:
Barack's latest trip does nothing to change my opinion of him. I still feel he lacks the experience to run this country. Furthermore, I'm still waiting for him to fall on his face so Hillary can step in and claim the nomination.
Joe from Arlington, Virginia writes:
Obama has brilliantly outplayed McCain in Iraq, the Middle East and Europe. There is nothing left for McCain but to "whine" about Obama and plan for a competing trip to Czechoslovakia.
Iris from Saugatuck, Michigan writes:
Obama was on an overseas trip? Funny, I didn't see anything about it on the news.