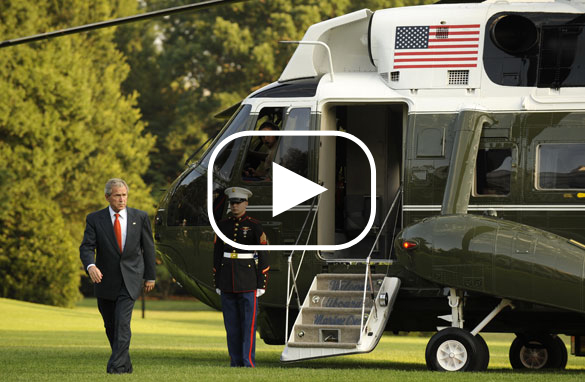 Click the Play Button to see what Jack and our viewers had to say.(PHOTO CREDIT: GETTY IMAGES)
FROM CNN's Jack Cafferty:
In case you're wondering why our economy is in the toilet, President Bush had the explanation at a closed Republican fund-raiser in Houston last week:
"Wall Street got drunk – it's one of the reasons I asked you to turn off your TV cameras. It got drunk and now it's got a hangover. The question is: how long will it sober up."
The depth of the intellect at the very top of our nation's government is staggering, isn't it? Quite an assessment coming from a reformed alcoholic. The president had apparently requested that those attending the event turn off their cameras, but the comments were recorded and started popping up on Texas news outlets.
The White House grabbed their brooms and immediately began sweeping up after him. They say Mr. Bush was referring to the fact that, "the markets were using very complex financial instruments that had grown up over the years, and when confronted with the shock of this housing downturn, they did not fully understand what the consequences were going to be."
Problem is, that doesn't sound at all like the president saying "Wall Street got drunk." It's that kind of shallowness that has created an appetite in the American public and overseas for someone like Barack Obama.
King Abdullah of Jordan actually cut short his vacation this week so he could meet with Obama. It must be like someone who works in a nursery all week finally getting a chance to have a conversation with an adult.
Here's my question to you: What do you make of President Bush's assessment that "Wall Street got drunk" when it comes to the ailing economy?
Interested to know which ones made it on air?

Kim from Portland, Oregon writes:
Unbelievable! This guy is whacked out of his mind! I cannot believe that is the leader of our country; it's embarrassing and shameful. And there are still idiots who are going to vote for more of the same with McCain. Never have I wished for winter so badly as now, November cannot come soon enough! This utter joke, and his evil cabal, need to vacate OUR White House!
Greg from Dallas writes:
What's next? Baghdad got drunk. Tehran got drunk. Halliburton got drunk. Katrina got drunk. How many days left?
Ron writes:
He is right. Investor greed, lack of common sense, and a SEC/Congress that changed the investment bank restrictions several years ago. We still have loan companies that target Hispanic-speaking persons, mortgage companies that still target people without basic math skills, and a Congress with the collective intellect of a peanut.
Sky writes:
That's the alcoholic answer to everything. It's their get out of jail free card. "I didn't mean to hurt your feelings, I was drunk." "I didn't even see the kid run out in front of me, I was drunk." "Sorry about your couch, I was drunk." "Sorry about America going down the toilet, we were drunk."
Ryan writes:
I think the statement is being blown out of proportion. I think we all know what the president was trying to say. I see no problem with him using such a metaphor in a room full of adults while he thought he was off the record. Heaven forbid a president shows some sort of sense of humor.
Fred from Surfside Beach, South Carolina writes:
Jack, If Wall Street got drunk, it was the Bush administration who supplied the booze.
Winston from Berrien Springs, Michigan writes:
Yeah, but not half as drunk as I got after I watched my 401K go straight into the toilet.