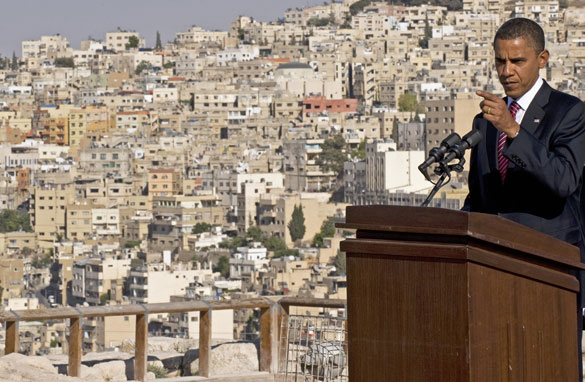 Barack Obama calls on a reporter during a press conference in Amman, Jordan. (PHOTO CREDIT: GETTY IMAGES)
FROM CNN's Jack Cafferty:
Barack Obama is pitching a shutout so far on his trip overseas.
What might be the most complicated part of his journey – into the war zone in Iraq and Afghanistan – seems to have gone off without a hitch. In fact, Obama couldn't have hoped for better timing – with Nuri al-Maliki's government choosing the day he was in Iraq to say that U.S. troops should be out of his country by 2010. That's a date that matches up perfectly with Obama's plan to remove troops within 16 months of when he would take office. And it gives Obama much more credibility on foreign policy, an area where critics say he lacks experience.
Obama is visiting Jordan, Israel and the Palestinian territories before he goes on to Europe. Meanwhile, his campaign is trying to play down the role of politics in his travels, painting it as a listening tour. But The Politico points out that's kind of tricky to do when you consider the stagecraft and planning that's going into some of these events. Take for example Obama's speech scheduled Thursday in Berlin, which could draw tens of thousands of people. The campaign, which insists the speech is "not for campaign purposes," might get film crews to shoot it – perhaps for a TV commercial. He's on the cover of Der Spiegel magazine under the headline: Germany meets the superstar.
As for John McCain, Obama's overseas adventures may have turned into a case of "be careful what you wish for." McCain badgered Obama for weeks to go, particularly to Iraq, and now Obama is sucking up all of the media attention and and generally getting rave reviews.
Here's my question to you: How will Barack Obama's overseas trip affect his chances of winning the election?
Interested to know which ones made it on air?

Nancy from Tennessee writes:
I think John McCain's criticism of Barack Obama for not visiting Iraq has backfired. John McCain is probably wishing he didn't tell Barack to see the world in seven days. Voters now see how Barack can handle himself with leaders of all countries. It will definitely give him a leg up when the polls open in November.
Stephen writes:
Not at all. He was going to win before the trip. And he is going to win after the trip.
Susie from Washington writes:
The commotion overseas is indicative of what is going on at home: Obama is a fad, hyped up by the media. He has yet to prove any real substance, just rah-rah talk of "change" and "hope". I am leaning toward voting for him, only to see if he can actually deliver on any of these ephemeral promises. But my guess is: just like the totally ineffective Democratic Congress led by Pelosi and Reid, he will not amount to much.
Raoul from New Orleans writes:
The media attention he has gotten so far is proof. While he has been abroad, Senator McCain has told us Senator Obama is to blame for our high gas prices, Iraq shares a border with Pakistan, and he is going to pick a V.P. soon. Does anyone care? No. If Senator Obama were to say one thing as shocking as this, he would be in more hot water than a crawfish boil.
Tony from San Diego writes:
He will have accomplished more this week than Bush did in two terms. Done.
Mike from Albuquerque, New Mexico writes:
The trip will give him enough free media coverage to blast him into orbit. That should put him over the top.
Jay from Sherman, New York writes:
Obama looks and acts presidential overseas, while all we hear recently from the McCain camp are sound bites of McCain whining about Obama. Doesn't that tell you something, Jack?