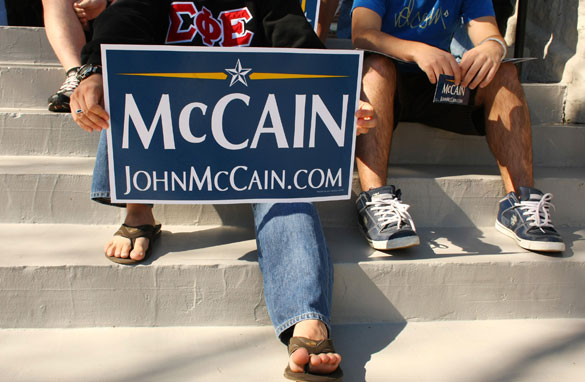 (PHOTO CREDIT: GETTY IMAGES)
FROM CNN's Jack Cafferty:
The next generation of Republicans is not optimistic and is fretting over its inability to connect with younger voters.
The head of the Young Republicans tells the Washington Post his party is "staring down a very long, dark, quiet night." He's probably right. A recent poll shows voters under 30 are more than twice as likely to identify themselves as Democrats. A lot has changed. In 1984, Ronald Reagan won 59 percent of the young vote. In 1992, they were split about evenly between the two parties. But since then, Democrats have gained ground in every election.
Usually the parties don't pay all that much attention to young voters, since they notoriously don't show up to vote. But this election could be different. Record numbers of young people voted in the primaries.
The up-and-coming Republicans also have mixed feelings about John McCain. Some worry he isn't conservative enough on issues like taxes and immigration reform. The head of the Young Republicans talks about how Obama has inspired a whole generation of voters, while McCain hasn't done a good job communicating about issues like the war and economy – causing younger Americans to turn away from the Republican Party.
The head of the Young Republicans thinks the Arizona Senator can still attract young voters by reaching out to them through social networking web sites and by showing his sense of humor through more appearances on late night talk shows.
Here's my question to you: How can the Republican Party excite young voters?
Interested to know which ones made it on air?

Chris writes:
They can excite young voters by not starting unnecessary wars that the young will have to fight.
Stephanie from Minneapolis writes:
Jack, If the GOP can guarantee jobs, that will not be outsourced within the next five years, to their young supporters then maybe that will light a fire under them.
Ben writes:
The Republicans can start by embracing the ideals that drew so many young people to Ron Paul's candidacy in the primary: Peace, Freedom, and Prosperity. Instead of shunning us now that the primary is over, they should embrace the dedicated, activist, conservative wing of the party if they want to attract younger voters and inspire future generations.
Mariel writes:
That train has already left the station.
Derek from New Jersey writes:
Having McCain drop out and select Stephen Colbert as the nominee.
Jackie writes:
I don't know more than 5 people under 21 who are Republican – we are in a era where young people are finding it hard to pay for college, racking up school debt, our friends are getting killed in Iraq, we probably wont have any Social Security left for us, and most of us don't have health care. Unless the GOP strongly changes positions where young people can see success for themselves, McCain doesn't have a chance.
Dave from Maryland writes:
Refer them to the Obama campaign.
Michelle from Washington writes:
McCain just learned how to use the Internet. Is this a serious question? I hope not, because I am LMAO. (Hint: McSame won't get it.)
Ed writes:
Stop being so Republican!