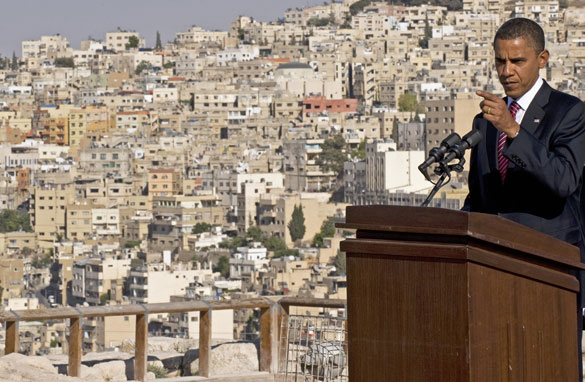 Barack Obama calls on a reporter during a press conference in Amman, Jordan. (PHOTO CREDIT: GETTY IMAGES)
FROM CNN's Jack Cafferty:
Barack Obama is pitching a shutout so far on his trip overseas.
What might be the most complicated part of his journey – into the war zone in Iraq and Afghanistan – seems to have gone off without a hitch. In fact, Obama couldn't have hoped for better timing – with Nuri al-Maliki's government choosing the day he was in Iraq to say that U.S. troops should be out of his country by 2010. That's a date that matches up perfectly with Obama's plan to remove troops within 16 months of when he would take office. And it gives Obama much more credibility on foreign policy, an area where critics say he lacks experience.
Obama is visiting Jordan, Israel and the Palestinian territories before he goes on to Europe. Meanwhile, his campaign is trying to play down the role of politics in his travels, painting it as a listening tour. But The Politico points out that's kind of tricky to do when you consider the stagecraft and planning that's going into some of these events. Take for example Obama's speech scheduled Thursday in Berlin, which could draw tens of thousands of people. The campaign, which insists the speech is "not for campaign purposes," might get film crews to shoot it – perhaps for a TV commercial. He's on the cover of Der Spiegel magazine under the headline: Germany meets the superstar.
As for John McCain, Obama's overseas adventures may have turned into a case of "be careful what you wish for." McCain badgered Obama for weeks to go, particularly to Iraq, and now Obama is sucking up all of the media attention and and generally getting rave reviews.
Here's my question to you: How will Barack Obama's overseas trip affect his chances of winning the election?
Interested to know which ones made it on air?