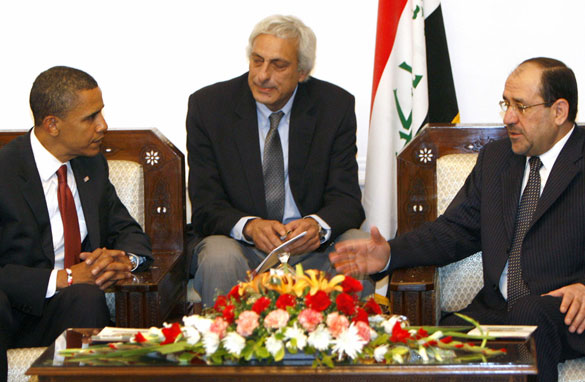 Senator Barack Obama meeting with Nouri al-Malaki in Iraq. (PHOTO CREDIT: GETTY IMAGES)
FROM CNN's Jack Cafferty:
While John McCain goes on and on about the surge and winning in Iraq – whatever that means – Iraqi Prime Minister Nuri al-Maliki says Barack Obama has the right idea: get U.S. troops out of his country within 16 months.
Talk about a blow to President Bush and John McCain. President Bush wants everything to be up to him, and John McCain says we could be in Iraq for 100 years. Nuri al-Maliki told the German magazine "Der Spiegel" that he'd like U.S. troops to withdraw "as soon as possible", adding that Barack Obama's talk of 16 months "would be the right time frame for a withdrawal."
The Bush administration immediately said that can't be right: the statement was out of context, it was mistranslated, that isn't what he meant blah blah blah. But the translator for the interview with the German magazine was Nuri al-Maliki's translator. And al-Maliki brought the subject of Barack Obama's timetable up on his own, voluntarily. The New York Times obtained a copy of the audio recording in which al-Maliki stated clear support for Obama's ideas for ending the war. The German magazine says it stands by its interview.
This follows a capitulation by President Bush last week in agreeing to talk to Iran about its nuclear program, something the president said he would never do unless they stopped enriching uranium. McCain, of course, goes along with President Bush, but Obama said all along we should talk to them. What could it hurt?
Here's my question to you: What does it mean when the Iraqi prime minister endorses Barack Obama's schedule for getting U.S. troops out of Iraq?
Interested to know which ones made it on air?

Allie writes:
Could it be any louder and clearer? Put on your "hearing and thinking cap" Mr. Bush! Your plan has been a disaster for our country and the world. And the Iraqi people are talking, loud and clear! We are talking loud and clear, too. You just don't care enough to listen.
Steven writes:
What does it mean? It means the Republicans are crashing and burning, that's what it means. A healthy 8-year switch is what our country needs.
Dan from Lafayette, Indiana writes:
It means al-Maliki is a puppet of the Iranian regime!
Ron writes:
It is simple, Jack. The Iraqi Prime Minister is doing like McCain says - he is listening to the people on the ground. The only difference is: it is the Iraqi people the Prime Minister is listening to, not the American military machine that McCain listens to.
Dan from Lansing, Mich. writes:
We must win the war in Iraq. As John McCain wrote in his dead-on Op-Ed that the New York Times didn't want us to read, Barack Obama talks only of ending the war, never of winning it. The situation on the ground must dictate when we the troops home, and a timetable for withdrawal would be disastrous. Barack Obama has no military experience whatsoever and we cannot let him make such reckless decisions for political reasons.
Kevin from Wilmington, Vermont writes:
While John McCain is to be lauded for his service in Vietnam and his years in Congress, his military mindset has tainted his world view. It seems that, in his mind, hawkishness is the only way. The Iraqis are rightfully tired of the perpetual war that is consuming their country and their every day lives.
Mark from Washington writes:
Isn't this what we wanted in the beginning, Jack? A democracy that can take the training wheels off and move on. Where does it end? We should honor their wishes. If we do: mission accomplished.