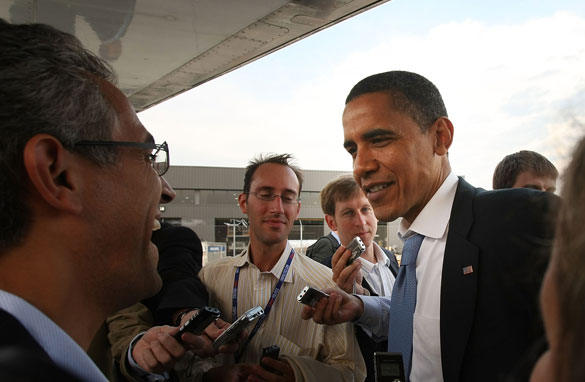 (PHOTO CREIT: GETTY IMAGES)
FROM CNN's Jack Cafferty:
Barack Obama's trip to Europe and the Middle East could be a game-changer in this election. The pollsters at Gallup say his highly publicized international trip could "have the potential to change the structure of the race."
Experts agree that the stakes are very high. The trip has been planned to put Barack Obama into settings where we usually see presidents – things like formal meetings with foreign leaders, public speeches and visits to historical sites.
While Obama has been highly critical of the Bush administration here at home, one analyst says he'll have to tread lightly overseas, "Criticizing foreign policy in Washington is one thing. Criticizing it in Berlin is another."
Obama leads Republican John McCain in the polls, but he still needs to convince a lot of Americans that he has the foreign policy chops to fill the role of commander-in-chief. One recent poll shows 48% of voters say Obama would make a good commander-in-chief, compared to 72% who feel that way about McCain. And you can bet the Republicans will be looking to pounce on any errors.
Obama will get intensive media coverage – the kind usually reserved for heads of state. And it's expected he'll get rock-star-like receptions from crowds wherever he goes. People overseas have been fascinated with Obama almost from the beginning. If he makes a good impression over there, it will likely do him a world of good over here.
After eight years of the cowboy diplomacy of President Bush, more than 70% of Americans think the U.S. is less respected in the world than it used to be. Barack Obama could begin to fix that.
Here's my question to you: What would constitute a successful trip overseas for Barack Obama?
Interested to know which ones made it on air?
Julie from Louisiana writes:
It will be a success when we see Senator Obama representing us abroad and feel a sense of pride in our leadership instead of embarrassment.
Kent from Illinois writes:
It is a given that the crowds will be unbelievably large. It may be enough attention to awaken blue collar voters here in the U.S.
Tony from Louisville, Kentucky writes:
It would be a successful trip if he stayed there.
Jed from Redding, California writes:
Let's consider the last two overseas trips by our fearless Republican leaders. We have President George W. Bush turning the G8 summit into an international kegger then we have McCain's last trip to the Middle East where he has Joe Lieberman tapping him on the shoulder every 5 minutes to remind him that what he just said about Iran, Iraq and Al Qaeda has no basis in reality. After those two Obama has a fairly easy task: Go there, do stuff, come back and don't be stupid.
J.D. writes:
I can't imagine what might constitute an unsuccessful trip. He'll meet with world leaders, attract massive crowds and capture the world's heart. Somewhere John McCain is sticking pins in an Obama voodoo doll.
Lisa writes:
Barack Obama will have a successful trip by just showing up. Hell, after eight years of Bush, the people overseas will be thrilled to finally have an intelligent conversation.
Jerry from Tulsa, Oklahoma writes:
Jack, The mainstream media is traveling with Barack and will soon tell us what constituted a successful Obama overseas trip, after the tingling in their leg subsides.