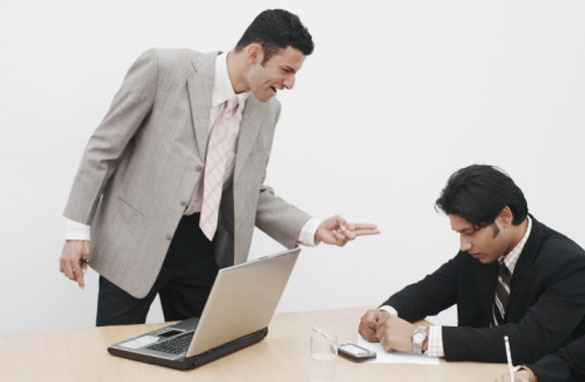 (PHOTO CREDIT: GETTY IMAGES)
FROM CNN's Jack Cafferty:
15 million workers in this country say they have a bad boss. A new survey also shows that 36 percent say they feel pressure to stay with said bad boss because of the shaky economy.
So if you have a crummy boss, but the economy is in the toilet, what do you do? Nothing, because a job with a bad boss… is better than no job at all. That's not to say having to deal with some jerk 8 hours a day, 5 days a week is any fun, but unfortunately these days a lot of people are trapped.
In recognizing these workers' plight, an outfit called "Working America," which is part of the AFL-CIO, is running an annual contest to see who has the worst boss in America.
The contest runs through August 19th but they've already heard from plenty of people with horror stories. The group says one of the biggest complaints reported by more than one-third of those surveyed is getting time off for illnesses, deaths in the family or other issues.
One guy says his boss made him stay at work when he had an awful stomach bug – so the boss could leave early to play golf. He ended up keeping a trash can next to him so he didn't have to run to the bathroom when he got sick and could answer the phones. Other complaints include lazy bosses, mean bosses and clueless bosses. You tend to find many of these latter ones in Washington D.C.
But we're pretty sure they haven't heard about all the bad bosses. It's Friday, and that's where you come in.
Here's my question to you: What's the crummiest thing your boss ever did to you?
Interested to know which ones made it on air?
Carol from Lompoc, California writes:
My middle-aged male boss told me on a Thursday he was going to take me dinner Friday evening because his wife was out of town. I was only 18 and didn't know how to handle it. I called in sick Friday and he never asked again.
Greg from Lancaster, Texas writes:
I once had a boss call me into his office. He then pulled a shoe shine kit from the bottom drawer of his desk and proceeded to shine his already shined shoes. He then said: You know Greg, the only thing I really hate about integration is that you can't get a good shoeshine anymore. That was 30 years ago but I will never forget it.
Jack from Minneapolis writes:
I've been my own boss for 38 years and the crummiest thing I've done to me is "take it easy" on days that I should have worked more diligently. Americans have become lazy.
Joseph writes:
The crummiest boss I ever had wouldn't let me go to my best friend's funeral because I was going to need the half-day afternoon off to attend it. He wouldn't let me go because I had just had my day off the day before. I learned that in future all my friends' or relatives' funerals must be scheduled on my days off.
Jax writes:
I had a boss for a summer job while in college who made me get her a latte every morning. I would get the latte and run full speed to her office. If it wasn't hot enough when it got to her, she would throw it in the trash and scream "try again." Sometimes she would throw out 5 or 6 lattes in a row!
A from Toronto writes:
My boss forced me to get up before the United Nations and knowingly lie about Iraq's plans to build and use nuclear weapons.
-Colin Powell
Michael from Destin, Florida writes:
The crummiest thing my boss ever did was to hire me.