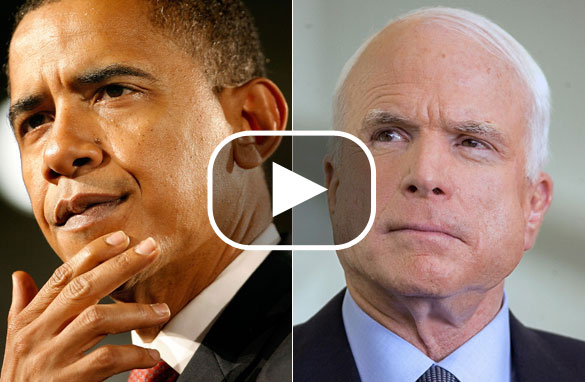 Click the play button to see what Jack and our viewers had to say.(PHOTO CREDIT: GETTY IMAGES)
FROM CNN's Jack Cafferty:
When Barack Obama travels overseas to Europe and the Middle East, he won't be alone.
Obama's trip is becoming a media extravaganza. All three network anchors will join him – broadcasting their nightly newscasts from stops along his route. Also along to record Obama's every move, top political reporters from major newspapers and magazines. 200 journalists have asked to join Obama on the trip, although the campaign will only be able to accommodate about 20% of them.
Meanwhile, Republican John McCain has taken 3 foreign trips in the last 4 months, and not a single network anchor has gone on any of them. It's causing some concern among Republicans that the news media aren't giving balanced coverage.
They may have a point. The three broadcast network newscasts, which have 20 million viewers combined, spent about 114 minutes covering Obama since June, compared to 48 minutes for McCain. Obama has been on the cover of Time and Newsweek magazines 12 times in the last 3 years, compared with 5 for McCain. And in the last few weeks, Obama has also landed on the cover of Rolling Stone and US Weekly, along with interview of his family by "Access Hollywood."
The TV executives have lots of reasons for why this Obama trip is such a big deal: it's his first overseas trip since becoming the presumptive nominee, he's a fresh face in politics, the historic nature of Obama's campaign, and the overwhelming interest in him overseas. Those are all valid. But that doesn't mean McCain has to like it.
Here's my question to you: Why does Barack Obama get more news coverage than John McCain?
Interested to know which ones made it on air?
Bob from Murphy, North Carolina writes:
Because news is not about news, it is about ratings and ad revenue. Currently Obama is hotter than McCain and has more juice so he creates better ratings and more revenue. It's all about money, stupid!
Susan from Culver City, California writes:
For better or worse, the first African-American Democratic nominee is a much bigger story than the same-old, same-old of John McCain.
Bob from Cottonwood, California writes:
Real simple: The media hacks like you are selling the Obama con job.
Dave from Brooklyn, New York writes:
What are you asking me for? You're the news guy. I don't get to choose what you guys want to talk about.
Tina writes:
Jack, God bless John McCain, he is a war hero. But let's face it, every time he gives a speech I fall asleep. On the other hand, I actually surf channels looking for any coverage of Barack Obama; I can't seem to get enough of him. He makes me feel like there is hope for this country... I imagine that the news media senses the same thing and wants to be there to record it all.
Laura writes:
Gimme a break! Obama is no more exciting than anyone else...he's the same old thing, wrapped in a different type of bow. The reason he gets more coverage is simple and is everything you and your colleagues have denied for months now: media bias.
Brad from Ohio writes:
Not to worry: When John McCain visits Czechoslovakia, the media will follow him in droves.
Mike from Vegas writes:
It's the same reason Wolf gets more air time than you, Jack: charisma.