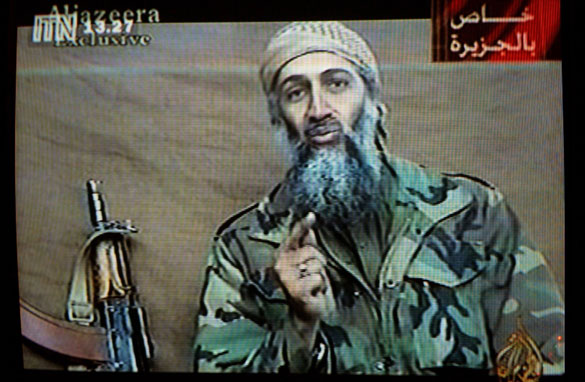 (PHOTO CREDIT: GETTY IMAGES)
FROM CNN's Jack Cafferty:
John McCain says he knows "how to win wars" and if elected, he will "get Osama bin Laden and bring him to justice." Remind you of anybody? Bring 'em on. Dead or alive... you get the picture.
McCain's comments come as he and Barack Obama are focusing on the so-called "forgotten war" in Afghanistan, where the Taliban have staged a comeback. Nine U.S. troops were killed in Afghanistan on Sunday. And in the last two months, more American and allied troops have died there than in Iraq. McCain insists that the strategy of increasing troops in Iraq has worked, and the same thing should be done in Afghanistan.
He says the U.S. should send three more brigades there along with a presidential envoy. He says Obama's call for withdrawal from Iraq would mean defeat.
Obama is also speaking out on Afghanistan, saying that Iraq has been a distraction from the fight against terrorism. Obama insists as president he would quickly end the war in Iraq, which he says hasn't made the U.S. any safer and was never the central front in the war on terror to begin with. Obama has been saying for a year now that more troops should be shifted from Iraq to Afghanistan. As for John McCain, yesterday was the first time he suggested such a move.
Both men also talk about military assistance to Afghanistan and Pakistan, nonmilitary aid to foster goodwill in the region and building alliances to fight terrorism.
Meanwhile, McCain – who touts his foreign policy credentials – has made the same blunder twice in two days: he has referred to events on the ground in "Czechoslovakia", a country that ceased to exist 15 years ago – in January 1993.
Here's my question to you: Who would do a better job of capturing Osama bin Laden: Barack Obama or John McCain?
Interested to know which ones made it on air?
Peter from Connecticut writes:
It's highly unlikely that either candidate, when he's the president, will affect the capture of bin Laden. He's too convenient a bogeyman to be made to go away. A side comment: McCain said he "knows how to win wars". What war did he win that gives him the credentials to make that statement? The only war he participated in, we lost.
Terrence from Georgia writes:
I think it's obvious who would catch bin Laden: Barack Obama has been saying for months that we needed to increase troops in Afghanistan and that we should be putting more emphasis on targeting high ranking Al Qaeda and Taliban members in the tribal regions of Pakistan. This is how we will catch Bin Laden.
Jared from Korea writes:
Hands down, John McCain. As a former POW and member of the military as well as a member of the Senate for many years, he has the credentials, the initiative, and the fortitude to seek out, find, capture, and bring bin Laden to justice. Obama is just now trying to visit Afghanistan and Iraq.
Jack from Long Island, New York writes:
With Obama in charge, we may actually have allies who would help us find bin Laden… unless McCain's Czechoslovakians can do it alone.
Jerry from Boston writes:
I suspect Obama will "capture" bin Laden in the same way that Reagan secured the release of the Iranian hostages (i.e. he had nothing to do with it, but got the credit). He'll be turned over by the Pakistanis in time for the inauguration as a snub to Bush. If McCain wins, we'll never see bin Laden.
Jim writes:
Jack, The Grim Reaper will finally claim bin Laden before Obama or McCain's forces get anywhere near him.
Tom from Cincinnati, Ohio writes:
Of course McCain could find bin Laden. He would just use his experience from the wars in Mesopotamia. Or was that Persia?
Rocky from Massachusetts writes:
Neither. Geraldo Rivera is the only choice for finding bin Laden.