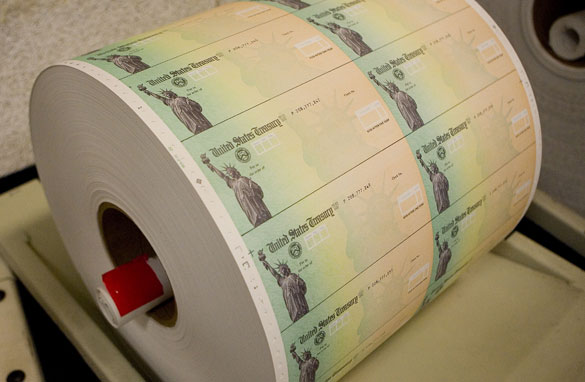 (PHOTO CREDIT: GETTY IMAGES)
FROM CNN's Jack Cafferty:
The Democrats think it might be time for a second round of rebates to taxpayers, in order to help millions of Americans deal with rising energy prices and unemployment, declining home prices and tight credit.
House Speaker Nancy Pelosi says they'll be working on another stimulus package and hopes it will be a bipartisan effort again.
Democrats say such a package might be about more than just rebate checks, probably including more spending for roads and infrastructure, additional unemployment benefits, help for low-income families to heat their homes and aid for states struggling with deficits.
Former Treasury Secretary Larry Summers calls our current economic situation "serious" and says the government is "in much more danger of responding inefficiently than in responding excessively."
But the Republicans are saying not so fast. President Bush says we should let the first stimulus package run its course. And Federal Reserve chairman Ben Bernanke agrees. Republicans say the best way to boost the economy is to pass legislation to limit home foreclosures and increase production of domestic oil. They would likely push for more tax cuts for businesses if they agree to another stimulus package.
The initial $168 billion package included rebates sent to more than 100 million households, with checks of up to $600 dollars for individuals and $1,200 for couples.
Economists say some stores have seen more business as a result of those checks, but it hasn't meant more hiring by companies or more lending by banks. Some say the only way to solve the financial crisis is by injecting banks with a lot of money.
Here's my question to you: Is another economic stimulus package the answer to our shaky economy?
Interested to know which ones made it on air?
Al from Dallas writes:
Sure! And they should start planning for a 3rd and a 4th. As the song goes, "There's a hole in daddy's arm where all the money goes..." We're stimulus junkies out here, Jack. We need some more stimulation, come on.
Darryl from Davis, California writes:
Listen to Bernanke on this one: let's give it a little time. A good comprehensive energy solution, including more drilling and access to shale oil, would go a lot further. Just look at what has happened over the last couple of days to oil prices after the mere suggestion that the U.S. would increase domestic production, along with some conservation.
D.J. writes:
Contrary to the way many of our representatives think, the American people are not stupid. Stop trying to buy us off. Do something for once that will really help the country.
Jerry writes:
We don't need more money; we need less spending, less credit and more discipline on the part of the consumer. Why do we need everything we see? No to the stimulus package.
Jonathan from Hartford, Connecticut writes:
Sure, what the hell? I'd sooner see it going to individuals than to bail out corporations. Let's try trickle-down economics in the other direction and see if it works!
Sergio writes:
Why is it that borrowing money from China, buying Chinese-made goods with that money, and sticking our children with the bill is called "economic stimulus"?
Beverly from Fredericksburg, Virginia writes:
Jack, Actually I think this stimulus package would actually work. We'd have to spend the money because God knows we're too afraid to put it in any of the banks now. Please tell the government to make my check out to 'Cash'!